Aaron Judge rejecting Padres' massive offer proves Yankees legacy was on the line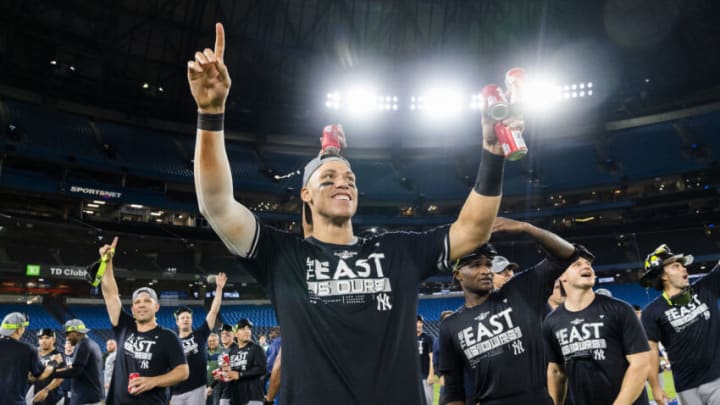 TORONTO, ON - SEPTEMBER 27: Aaron Judge #99 of the New York Yankees celebrates on field after their team defeated the Toronto Blue Jays to clinch first place in the AL East following their MLB game at the Rogers Centre on September 27, 2022 in Toronto, Ontario, Canada. (Photo by Mark Blinch/Getty Images) /
Aaron Judge will remain a New York Yankee for (presumably) the remainder of his baseball career. Rejoice. But the stress of him potentially leaving was real. For a moment, he was apparently a San Francicso Giant. Or … wait. That was Arson Judge.
But the Giants weren't the only bidder. There were multiple "mystery" teams involved. And one was revealed on Wednesday morning.
The San Diego Padres, after missing out on Trea Turner, who declined their historic $342 million offer, were reportedly the reason Judge flew to the Winter Meetings. That explains why the Yankees seemingly didn't know!
General manager AJ Preller wasn't messing around, either. According to Bob Nightengale of USA Today, the Pads offered Judge a 10-year, $400 million contract. One more year, $40 more million. Judge said no.
The Padres offered two of the largest contracts in MLB history and got rejected. Nobody has ever turned down that much money. Ever.
More Articles About Aaron Judge:
Aaron Judge clearly values his Yankees legacy after rejecting the Padres' massive offer
According to multiple insiders, the Giants also offered $360 million, with some saying they also exceeded that number. Judge turned down his hometown team that apparently either offered the same deal or slightly more.
What does this tell us? Judge always viewed his Yankees legacy as a deciding factor in his free agency. Part of it was obviously about the money. He needed to get paid. He deserved to get paid. He deserved a free agency tour, no matter how small. He knew he had the Yankees backed into a corner, and he knew they'd end up around what he wanted.
Unless he was disrespected in a manner nobody could've ever imagined, Judge always felt like he'd be prioritizing the mark he's left on New York and the greatest franchise in the sport. If he wins one World Series, he's a legend. He's an unmistakable icon. He'll have a plaque in Monument Park. He'll probably have his number retired when all is said and done. His Hall of Fame case/resume will be that much more ironclad, should he continue on this trajectory.
The alternative? Start anew elsewhere. Clean slate. Most likely be tasked with endearing yourself to an entirely different fanbase, both on and off the field. Building a new body of work from scratch. Your last six, All-Star, MVP-esque seasons don't really matter until you prove yourself in this fresh setting, with different expectations. Likely on a worse roster, too!
There are some perks to being a renowned franchise. The expectations are brutal, yes.
The media is harsh. The fans are unforgiving. But there remains an allure. One some fans felt was dissipating as the years progressed and as the Yankees have fallen out of top-tier contention.
Judge reminded everybody on Wednesday morning that it's still alive and well. Or maybe he revived it? Either way, "just money" isn't the only reason the game's top stars are interested in being here after all.