Yankees: These players should be on MLB's and Yanks' Mount Rushmore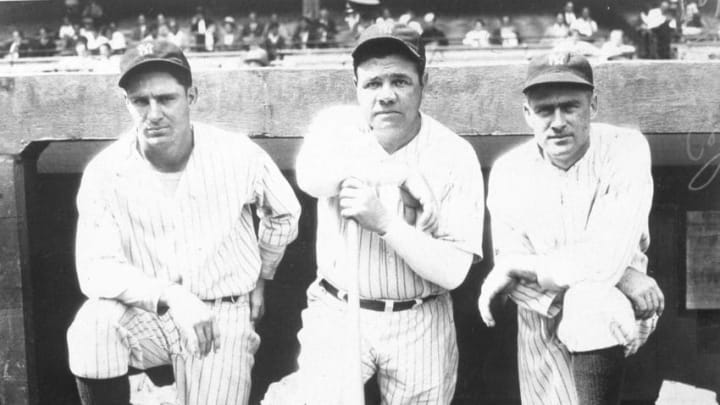 New York Yankees outfielders, feat. Earle Combs (Photo by Mark Rucker/Transcendental Graphics/Getty Images) /
As most are aware, Mount Rushmore National Memorial is an enormous sculpture etched in solid rock in the Black Hills of South Dakota. The monument is approximately 60 feet high and depicts the faces of four prominent presidents (Washington, Jefferson, [Theodore] Roosevelt, and Lincoln).
If we could carve a similar memorial in honor of the four best MLB players of all time, whose faces would be "etched in stone"? Likewise, if we could chisel an analogous memorial in honor of the four best players who had donned the pinstripes, who might they be?
As part of a TV show recognizing Hank Aaron's career achievements following his passing, my man Chris "Mad Dog" Russo identified three extraordinary players who he would memorialize in such a sculpture. Three of the four greats named by him are Hank Aaron, Ty Cobb, and Babe Ruth. Hard to argue with that list.
More from Yankees History
However, Mad Dog and his sidekick Bruce Schein were stumped on the selection of the fourth player. They debated whether either Lou Gehrig, Willie Mays, or Ted Williams should be the final face on the monument.
Russo seemed to slightly lean towards Gehrig because of his overall performance on the diamond and his prominence in American culture (e.g., the movie The Pride of the Yankees, with Oscar recipient Gary Cooper as Gehrig, Gehrig's stirring retirement speech at Yankee Stadium, etc.). Schein appeared undecided and thought that any one of the three candidates deserved the honor.
Like Russo, I think Gehrig, Mays, and Williams are worthy of consideration to fill the monument's fourth spot on the rock.
Only position players were considered for placement on the monument by Dog and Schein. They felt that pitchers (starters and relievers) could not be fairly evaluated the same way as everyday players. It is hard to argue against this logic.
The Russo/Schein analysis naturally invites a conversation about which four position players should be placed on a New York Yankees' Mount Rushmore. As we all know, the team has had terrific players over the years, and it is not easy to determine whose four faces should be carved into the rock. Keeping this in mind, I have selected four Yankee greats who I believe definitely belong on the monument.
Former outfielder Joe DiMaggio #5, pitcher Spurgeon "Spud" Chandler #21 and infielder George "Snuffy" Stirnweiss #1 of the New York Yankees – (Photo by: Olen Collection/Diamond Images/Getty Images) /
4. Joe DiMaggio
The fourth face on the rock belongs to The Yankee Clipper, Joe DiMaggio, who won the AL batting title twice, was named AL MVP three times, famously had a 56-game hitting streak in 1941 (with multiple hits in many of those games), and played well in 10 World Series (with the Yanks winning 9).
During his rather short 13-year career, he hit 361 home runs, drove in 1,537 RBI, and retired with a career batting average of .325. The Hall of Famer had 2,214 hits and played in 13 All-Star Games.
He was married to Marilyn Monroe between 1954 and 1955, which in itself makes him worthy of placement on the Yanks' Mount Rushmore!