Even MLB Network's advanced stat king thinks Yankees' Don Mattingly deserves Hall of Fame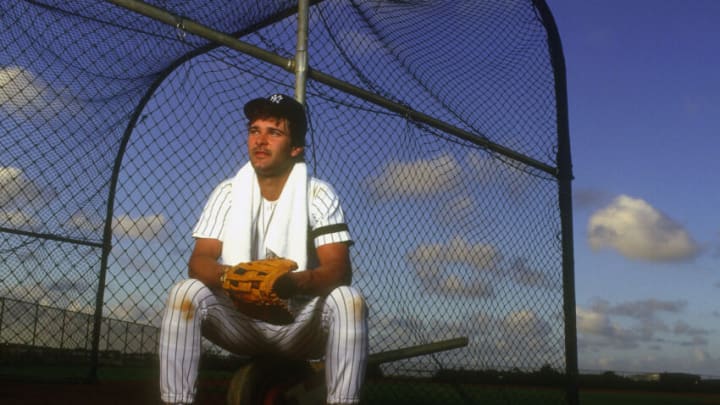 FORT LAUDERDALE, FL - CIRCA 1987: Don Mattingly #23 of the New York Yankees poses for this portrait during Major League Baseball spring training circa 1987 in Fort Lauderdale. Mattingly played for the Yankees from 1982-95. (Photo by Focus on Sport/Getty Images) /
It's true. The baseball voice who you'd perhaps assume was the most against Don Mattingly's star-power-based Hall of Fame case came out in favor of Donnie Baseball's election on Tuesday afternoon.
And not just in favor of adding another Yankees icon to the Hall alongside Fred McGriff and Dale Murphy, but strongly in favor. What a world.
MLB Network's Brian Kenny doled out a segment's worth of Cooperstown Justice this week ahead of the Hall's Contemporary Baseball Era Committee meeting, which will produce a verdict on Dec. 4. In order for these '80s, '90s and '00s stars to gain election, they'll need to receive 12 or more votes out of 16 panelists.
Mattingly hasn't polled nearly that well in the past; his recent Veterans Committee totals were unreported, meaning they fell below even the threshold that would've made them noteworthy. He seems to be surging in momentum this time around, though; while Barry Bonds, Roger Clemens and Curt Schilling seem like controversial long shots, McGriff appears to be a shoo-in, while Murphy and Mattingly are the feel-good possibilities.
Wooed by something beyond star quality, Kenny laid out a surprisingly impassioned case for Mattingly on Tuesday's show, a candidate he asserts you can feel "great" about.
Even Brian Kenny thinks Yankees' Don Mattingly belongs in Baseball Hall of Fame
Kenny sounds a little under the weather up top, but don't let that detract from his message: "How much does the good stuff matter?"
Here are the Cliff Notes:
From 1984-1987, Kenny reminds viewers that Mattingly was the "best player in the American League and best hitter in all of baseball". He slugged .560. .560! Had the best OPS+ in the game during that period, among other offensive statistics.
He whomped the rest of baseball in total bases from 1984-89, leaving the second-place finisher George Bell in the dust by 120. Kirby Puckett, the Hall's small sample size darling? Beat him by 174.
87 more walks than strikeouts in those peak six seasons! And that's why his peers look at him so reverently. Good thing this committee is stacked with peers!
From 1984-87, Mattingly slugged 100 points higher than Tony Gwynn and nearly matched his strikeout rate (5.3% to 4.6%).
This Hall ballot is certainly an odd one. You almost feel like it's loaded with controversial candidates to take the heat off McGriff, Murphy and Mattingly so that two or three of those clean fan favorites can be ushered in.
After all, no Lou Whitaker. No Keith Hernandez. No Will Clark. No Dwight Evans. All those players have excellent cases, too, but the Hall opted for three classic smiles buried among several nose-thumbers.
Mattingly doesn't deserve to be elected on flash and vibes alone, though, and no one's more trustworthy than Kenny in laying out that case.