New York Yankees: 50 greatest players of all-time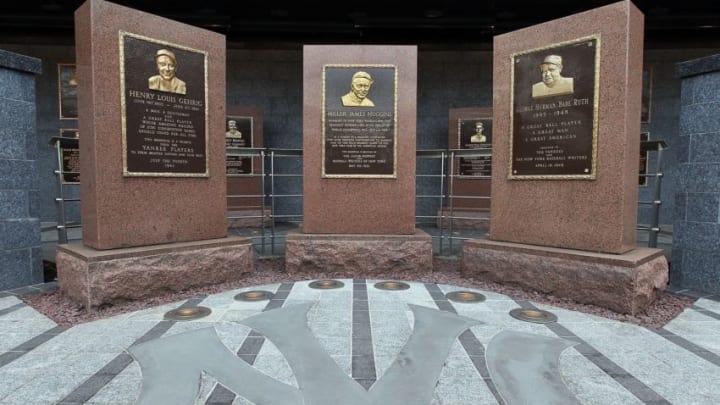 NEW YORK - MAY 02: The monuments of (L-R) Lou Gehrig, Miller Huggins, and Babe Ruth are seen in Monument Park at Yankee Stadium prior to game between the New York Yankees and the Chicago White Sox on May 2, 2010 in the Bronx borough of New York City. The Yankees defeated the White Sox 12-3. (Photo by Jim McIsaac/Getty Images) /
The Yankees snatched up young catcher Bill Dickey after he was waived by the Class D Jackson Senators after the 1927 season and by the end of 1928, the 21-year-old was making his debut for the Yankees.
He took over as New York's regular catcher in 1929 and had a phenomenal run behind the plate, earning 11 All-Star nods and helping the Yankees to seven World Series titles.
Dickey was second in the MVP voting in 1938, when he was in the midst of a four-year stretch of .300 averages to go with at least 22 homers and 105 RBI.
Dickey was commissioned into the Navy in June 1944, just before his 37th birthday, and missed two seasons before returning to the Bronx for one last go-around in 1946, a season in which he also served 105 games as player-manager.
Born in Louisiana and raised in Shelby, Arkansas, Dickey was one of two brothers to catch in the bigs along with younger sibling George Dickey, who played parts of six seasons from 1935-47.
Dickey's prime years from 1936-39 were as good as any stretch ever by a catcher. Over that span, he hit .326/.415/.980 with 102 homers and 460 RBI in 512 games.
The rest of his 17-year career wasn't bad either, as he finished at .313/.382/.868 with an OPS+ of 127 and 202 homers, 1,209 RBI, 930 runs scored and only 289 strikeouts in more than 7,000 plate appearances.
In eight World Series, Dickey hit .255/.329/.709 with five homers and 24 RBI.
After retirement, he spent nine years as a coach with the Yankees from 1949-57 and later returned to Little Rock, Arkansas,, selling securities with his brother, ccording to the Society for American Baseball Research.
Dickey was inducted into the Hall of Fame in 1954 and died on Nov. 12, 1993 at the age of 86.