New York Yankees: 50 greatest players of all-time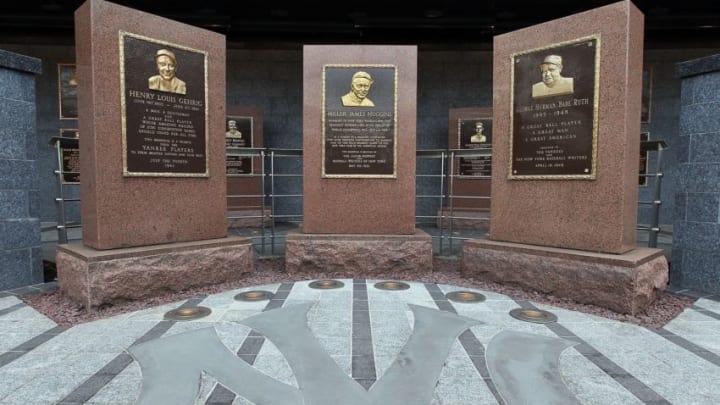 NEW YORK - MAY 02: The monuments of (L-R) Lou Gehrig, Miller Huggins, and Babe Ruth are seen in Monument Park at Yankee Stadium prior to game between the New York Yankees and the Chicago White Sox on May 2, 2010 in the Bronx borough of New York City. The Yankees defeated the White Sox 12-3. (Photo by Jim McIsaac/Getty Images) /
A native New Yorker, Whitey Ford signed with the Yankees in the 1946-47 offseason and made his way through the minors fairly quickly.
Ford had been a first baseman for most of high school before moving to the mound as a senior, according to the Society for American Baseball Research, but he was a quick study.
Ford arrived to the Yankees on July 1, 1950, and was sensational down the stretch, going 9-1 with a 2.81 ERA and 1.241 WHIP in 20 appearances, making 12 starts and striking out 59 in 112 innings.
After throwing 8.2 innings of shutout baseball in the World Series-clinching Game 4 win against the Philadelphia Phillies, but his career took a detour when he was drafted into the Army in November 1950.
After his two-year hitch was up, Ford returned to the Yankees and quickly installed himself as their ace. He led the American League in ERA and innings pitched twice, posted the league's best WHIP and won the Cy Young Award (which at the time was only awarded to one pitcher in baseball) in 1961.
Ford was the rock of the staff for 13 years before injuries and age slowed him down in 1966. Despite coming back and pitching well early in the 1967 season, Ford retired on May 30 of that year, ending his 16-year career.
He was 236-106 with a 2.75 ERA and 1.215 WHIP (133 ERA+), with 1,956 strikeouts in 3,170.1 innings. Ford also had 156 complete games and 45 shutouts.
Ford was a 10-time All-Star and was third in the Cy Young voting in 1956, while finishing third in the MVP race in 1963.
In 22 World Series starts, Ford was 10-8 with a 2.71 ERA and 1.137 WHIP, striking out 94 hitters in 146 innings with seven complete games and three shutouts.
He was the World Series MVP in 1961, when he blanked the Cincinnati Reds over 14 innings in his two starts, allowing only six hits and walking one.
Ford was inducted into the Hall of Fame in 1974, in his second year of eligibility.