New York Yankees: 50 greatest players of all-time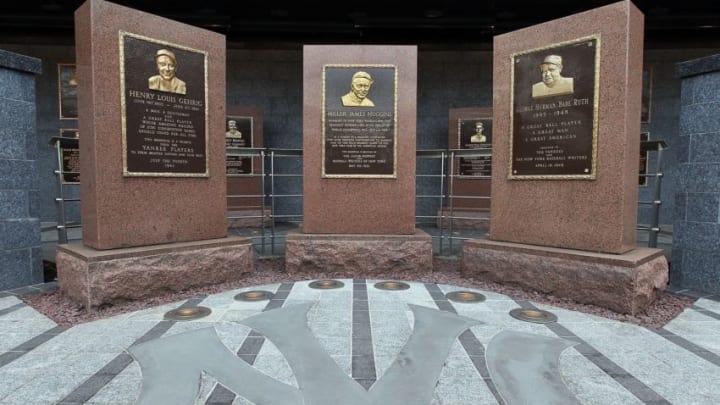 NEW YORK - MAY 02: The monuments of (L-R) Lou Gehrig, Miller Huggins, and Babe Ruth are seen in Monument Park at Yankee Stadium prior to game between the New York Yankees and the Chicago White Sox on May 2, 2010 in the Bronx borough of New York City. The Yankees defeated the White Sox 12-3. (Photo by Jim McIsaac/Getty Images) /
Mandatory Credit: Rick Stewart /Allsport /
Willie Randolph was never the best player with the Yankees, but for 13 seasons he might have been the steadiest.
Randolph came to the Yankees in a December 1975 trade with the Pittsburgh Pirates, with righthander Doc Medich going the other way in exchange for Randolph and pitchers Ken Brett and Dock Ellis.
But it was Randolph who was the big catch.
He was an All-Star as a 22-year-old in 1976 and brought speed to the Yankees lineup and solid glove work to the middle infield.
Randolph was a five-time All-Star with the Yankees and led the league with 119 walks in 1980.
In four postseasons with the Yankees (Randolph missed the 1978 playoffs with an injury), he hit .212/.320/.678 with four homers and 11 RBI while scoring 17 runs.
Four times, Randolph stole at least 30 bases, with a career-high 37 in 1976. He never hit more than seven home runs in a season, but he was a rock in the No. 2 spot in the order, combining a good eye for the strike zone with consistent contact.
He drew 1,005 walks in 13 years in New York, with just 512 strikeouts in 7,464 plate appearances.
Overall as a Yankee, Randolph his .275/.374/.731 with an OPS+ of 105, 48 homers, 549 RBI, 1,027 runs and 251 steals. He also had 75 sacrifice hits.
Randolph left in December 1988 to sign as a free agent with the Los Angeles Dodgers and later played with the Oakland Athletics, Milwaukee Brewers and New York Mets before retiring after the 1993 season.
He returned to the Yankees in a front office role and was a coach with the club from 1994-2004 before being named to manage the Mets.
Randolph had that job from 2005-08. He later coached with the Milwaukee Brewers and Baltimore Orioles and was a coach for Team USA at the last two World Baseball Classics in 2013 and 2017.