New York Yankees: 50 greatest players of all-time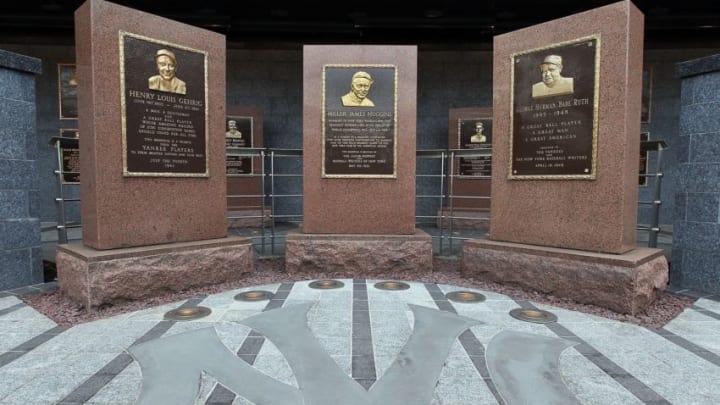 NEW YORK - MAY 02: The monuments of (L-R) Lou Gehrig, Miller Huggins, and Babe Ruth are seen in Monument Park at Yankee Stadium prior to game between the New York Yankees and the Chicago White Sox on May 2, 2010 in the Bronx borough of New York City. The Yankees defeated the White Sox 12-3. (Photo by Jim McIsaac/Getty Images) /
(Photo by Jim McIsaac/Getty Images) /
Three MVP awards, two gigantic contracts and a career shrouded in controversy — thus was the 23-year journey through Major League Baseball of one Alex Rodriguez.
What he did on the field was undeniably great. What he did off it will forever taint that legacy.
Rodriguez was long accused of using performance-enhancing drugs, issuing denial after denial before he was suspended for the entire 2014 season in the wake of the Biogenesis scandal the previous year.
But in 12 seasons with the Yankees, Rodriguez put up some gargantuan numbers.
The Yankees obtained the reigning AL MVP from the Texas Rangers in February 2004, giving up Alfonso Soriano and Joaquin Arias to get him.
The move to New York necessitated a position switch, as Rodriguez was not going to unseat Derek Jeter at shortstop. He shifted over to third base and remained there until becoming a full-time DH his final two seasons.
His first season in pinstripes wasn't without controversy.
While the Yankees were collapsing in the 2004 ALCS against the Boston Red Sox, Rodriguez made one of the plays that marked his career, slapping the ball out of the glove of Red Sox pitcher Bronson Arroyo running out a swinging bunt in the sixth inning of Game 6.
He was ruled out for interference and a run that cut Boston's lead to 4-3 was taken off the board.
In 2005, Rodriguez settled in, winning the first of his two MVP awards with the Yankees, slugging a league-best 48 home runs while leading the AL in runs, slugging percentage and OPS along the way.
He won his second MVP award in 2007, hitting 54 homers and driving in 156 runs. He was also a seven-time All-Star in New York.
Then there was that whole … postseason … thing. From 2005-07, Rodriguez all but disappeared at the plate in the playoffs, going 7-for-44 with one homer and one RBI in that span as the Yankees were eliminated in the first round each year.
He rebounded with a strong 2009 postseason, hitting six homers with 18 RBI in 15 games, but did relatively little at the dish the remainder of his career. In all, Rodriguez hit .240/.363/.794 in 61 playoff games for the Yankees, with 10 homers and 33 RBI.
In 12 seasons, his regular-season totals were vastly different. He his .283/.378/.900 with an OPS+ of 136 to go with 351 home runs, 1,096 RBI, 1,012 runs scored and 152 stolen bases.
But all those numbers — 696 career home runs chief among them — probably won't get him to Cooperstown, if the voting results of others connected to PEDs are any indicator.