New York Yankees: 50 greatest players of all-time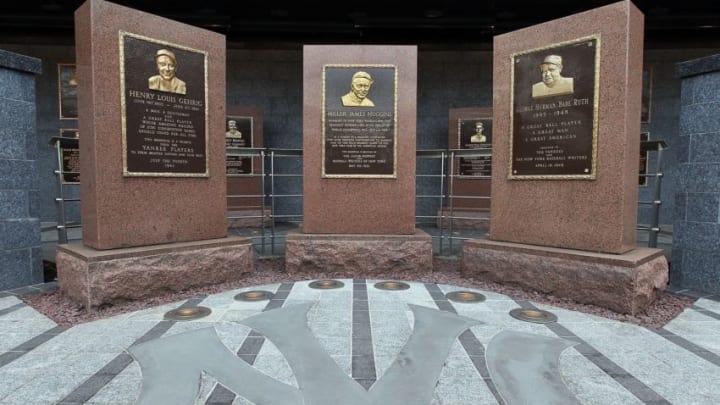 NEW YORK - MAY 02: The monuments of (L-R) Lou Gehrig, Miller Huggins, and Babe Ruth are seen in Monument Park at Yankee Stadium prior to game between the New York Yankees and the Chicago White Sox on May 2, 2010 in the Bronx borough of New York City. The Yankees defeated the White Sox 12-3. (Photo by Jim McIsaac/Getty Images) /
Tony Lazzeri is another one of a fairly long line of Yankees greats with Bay Area roots. The Yankees acquired the young second baseman from the Pacific Coast League's Salt Lake City Bees for three players to be named later and $50,000 cash.
That season with Salt Lake City, Lazzeri clubbed 60 home runs with 52 doubles and 14 triples, hitting .355 with an astounding 512 total bases.
He won the second base job for the Yankees the following year and while he never approached that sort of power production outside of the thin Utah air, Lazzeri was a solid producer in the shadows of megastars Babe Ruth and Lou Gehrig.
In 12 years with the Yankees, Lazzeri hit .293/.379/.847 with an OPS+ of 120 to go with 169 homers, 1,157 RBI, 952 runs and 147 stolen bases.
He was in the inaugural All-Star Game in 1933 and was third in the MVP voting in 1928 despite missing almost 40 games to injury, hitting .332/.397/.932 with 10 homers and 82 RBI in 116 games.
Lazzeri played in seven World Series with New York, with the Yankees winning five of them, as he hit .262/.342/.762 with four home runs and 19 RBI in 32 games.
He was released by the Yankees in October 1937 and played a season as a utility infielder with the Chicago Cubs and split 1939 between the Brooklyn Dodgers and New York Giants.
But for most of his life, and after his death, Lazzeri was more known for striking out against Grover Alexander to end Game 7 of the 1926 World Series.
In a 1945 interview, per the Society for American Baseball Research, Lazzeri seemed resigned to his fate:
"Funny thing, but nobody seems to remember much about my ball playing, except that strikeout. There isn't a night goes by but what some guy leans across the bar, or comes up behind me at a table in this joint, and brings up the old question. Never a night."
For more than 50 years, Lazzeri's name was on a plaque at the Hall of Fame, even though he wasn't. Alexander's plaque includes this passage:
"He won the 1926 world championship for the Cardinals by striking out Lazzeri with the bases full in the final crisis."
Lazzeri managed in the minors for a couple of seasons before returning to San Francisco and owning and operating a tavern. He died on Aug. 6, 1946, from a heart attack at the age of 42.
He was inducted into the Hall of Fame, finally, by the Veteran's Committee in 1991.