New York Yankees: 50 greatest players of all-time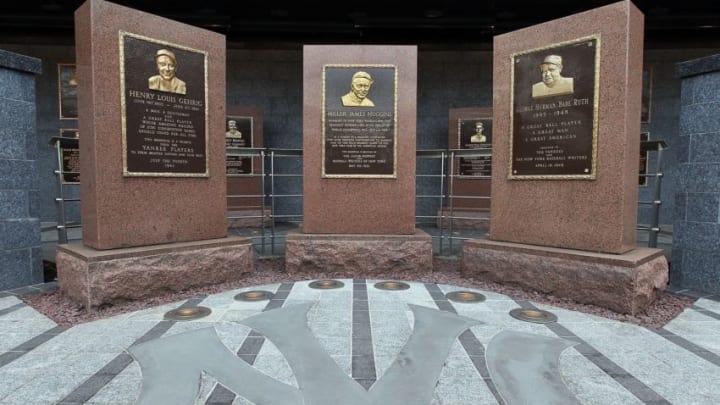 NEW YORK - MAY 02: The monuments of (L-R) Lou Gehrig, Miller Huggins, and Babe Ruth are seen in Monument Park at Yankee Stadium prior to game between the New York Yankees and the Chicago White Sox on May 2, 2010 in the Bronx borough of New York City. The Yankees defeated the White Sox 12-3. (Photo by Jim McIsaac/Getty Images) /
The Yankees took Kent State University catcher Thurman Munson with the fourth overall pick in the 1968 June Amateur Draft and the dividends he returned were swift.
Munson made his major league debut for the Yankees a little more than a year later, in August 1969, and was New York's starting catcher by the start of the 1970 season.
He was the American League Rookie of the Year that season, hitting .302/.386/.801 with six homers and 53 RBI in 132 games, scoring 59 runs.
Munson made the first of his seven All-Star appearances the following season and in 1973 was awarded the first of three Gold Gloves.
When the Yankees won their first American League pennant in 12 years during the 1976 season, Munson earned AL MVP honors after hitting .302/.337/.769 with 17 homers, 105 RBI and 69 runs while also stealing a career-best 14 bases.
Munson was the leader of the Yankees' World Series winners the following two seasons, driving in 100 runs in 1977, marking three straight seasons reaching that plateau.
He was less than two months past his 32nd birthday, still in his prime, when he opted to fly home to Canton, Ohio, on an off-day on Aug. 2, 1979. While practicing touch-and-go landings at the Canton-Akron airport, his new jet crashed, killing the first Yankee to be named captain since Lou Gehrig.
The shock of Munson's death reverberated throughout the sporting world, even in the days before instant messaging and instant news. Flags were flown in the states of New York and New Jersey out of respect for the Yankees' fallen leader.
In 11 seasons with New York, Munson hit .292/.346/.756 with an OPS+ of 116 to go with 113 home runs, 701 RBI and 696 runs scored.
He was placed on the ballot for Hall of Fame consideration less than two years after his death, in 1981, but never garnered more than 15.5 percent of the vote from the writers before falling off the ballot in 1995.
In postseason play, Munson was terrific, hitting .357/.378/.874 with three homers, 22 RBI and 19 runs in 30 games, including a massive 1976 October during which he was 19-for-40 in nine games.