New York Yankees: 50 greatest players of all-time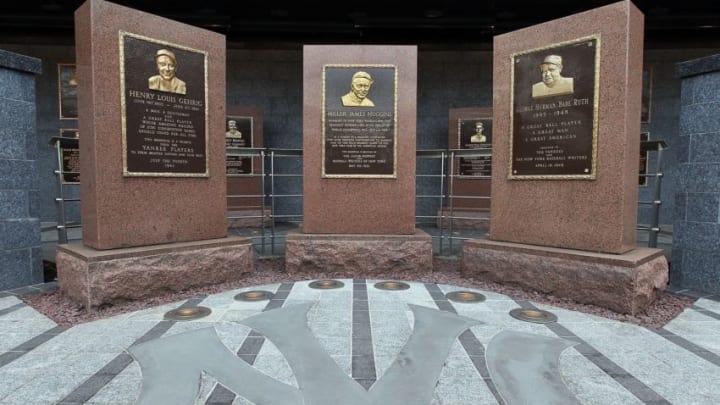 NEW YORK - MAY 02: The monuments of (L-R) Lou Gehrig, Miller Huggins, and Babe Ruth are seen in Monument Park at Yankee Stadium prior to game between the New York Yankees and the Chicago White Sox on May 2, 2010 in the Bronx borough of New York City. The Yankees defeated the White Sox 12-3. (Photo by Jim McIsaac/Getty Images) /
Right-hander Red Ruffing was a pitcher that seemed to embody the old saying that a pitcher's gotta be pretty good to get enough chances to lose 20 games.
With the Boston Red Sox, Ruffing twice lost 20 or more games with a club that was among baseball's worst at the time.
His rescue came in May 1930, when the Yankees acquired Ruffing from Boston in exchange for spare outfielder Cedric Durst and $50,000.
Shockingly, Ruffing began to win … a lot.
He was a six-time All-Star in 15 seasons with the Yankees, leading the league with 190 strikeouts in 1932 and twice topping the AL in strikeouts per nine innings. Ruffing was also a constant in New York's rotation for 13 years.
In 1943 at age 37, he was drafted into the Army and served two years as a non-combatant (he had lost four toes in an accident as a teenager when his left foot was crushed between two coal cars while he was working at an Illinois mine, according to the Society for American Baseball Research.
Ruffing returned to the Yankees for two seasons after the war as a spot starter and closed his career pitching one season with the Chicago White Sox in 1947.
In 15 seasons with New York, Ruffing was 231-124 with a 3.47 ERA (119 ERA+) and started 391 of the 426 games in which he appeared, completing 261 with 40 shutouts. He also had 1,066 strikeouts in 3,168.2 innings.
Ruffing was very good in seven World Series appearances, six of which resulted in Yankee titles. He was 7-2 in 10 World Series starts with a 2.63 ERA and 61 strikeouts in 85.2 innings, completing eight games.
Ruffing went on to work in the farm systems for both the White Sox and Cleveland Indians and spent the inaugural 1962 season as pitching coach for the New York Mets.
He was inducted into the Hall of Fame in 1967, voted in via runoff on his final year on the ballot. He died from heart failure on Feb. 17, 1986 at the age of 80.