New York Yankees: 50 greatest players of all-time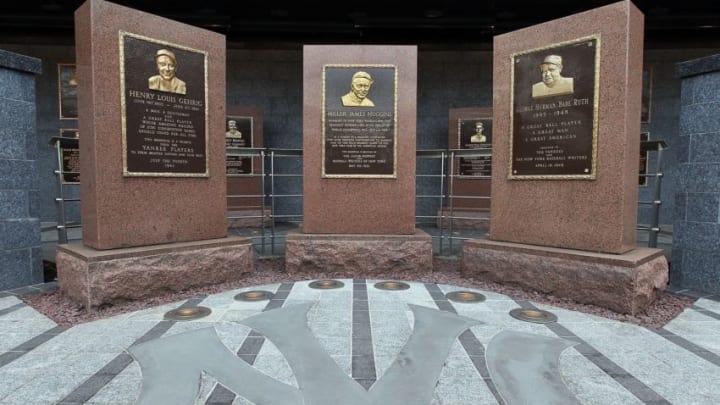 NEW YORK - MAY 02: The monuments of (L-R) Lou Gehrig, Miller Huggins, and Babe Ruth are seen in Monument Park at Yankee Stadium prior to game between the New York Yankees and the Chicago White Sox on May 2, 2010 in the Bronx borough of New York City. The Yankees defeated the White Sox 12-3. (Photo by Jim McIsaac/Getty Images) /
Don Mattingly made the jump from 19th-round draft pick to superstar in roughly five years and was on his way to being one of the all-time greats before a bad back changed his career path.
Mattingly was drafted as a high-school outfielder from Evansville, Indiana in 1979, but a move to first base cleared a path to the majors that he jumped on.
He came up for a cup of coffee in September 1982 and returned to stay after a two-month demotion to Triple-A in early 1983.
He did most of the heavy lifting at first base for the remainder of that season and returned with a breakout campaign in his first full season in the bigs. Mattingly won the batting title in 1984 with a .343 average and led the American League in hits and doubles.
That was just the warm-up act.
In 1985, Mattingly put together an MVP season while leading the Yankees to the final weekend of the chase for the division title before they fell short to the Toronto Blue Jays. Mattingly led the AL with 145 RBI, 370 total bases and 48 doubles while hitting a career-high 35 home runs.
He may have been better in 1986, hitting .352 and leading the league in slugging, OPS, OPS+, total bases, hits and doubles.
But his power began to fade after a 30-homer campaign in 1987. That season, he injured his back and missed some time. His power numbers dropped off until 1990, when the bottom fell out. He played in just 102 games before he was shut down because of chronic back problems.
According to the Society for American Baseball Research, it was a congenital deformity that limited and changed his swing as he got older. Mattingly worked hard to rehab and adjust and played five more seasons, but was not the same player.
The Yankees finally made the postseason in his final season, 1995, and he went out with a strong showing in a five-game loss to the Seattle Mariners, going 10-for-24 with a homer and six RBI in the series.
From 1984-87, Mattingly put together one of the best four-year stretches ever, hitting .337/.381/.941 with 119 homers and 483 RBI. With the power, Mattingly had tremendous bat control, striking out only 147 times in that span.
In 14 seasons overall, he hit .307/.358/.830 with a 127 OPS+ and 222 home runs, 1,099 RBI and 1,007 runs scored, striking out 444 times in 7,722 plate appearances.
Mattingly was a six-time All-Star and won seven Gold Gloves for his work at first base.
He returned to baseball, and the Yankees, as their hitting coach in 2004. Mattingly was promoted to bench coach in 2007, then followed Joe Torre to the Los Angeles Dodgers to be their hitting coach, eventually succeeding Torre as manager in 2011.
He is currently in his fourth season managing the Miami Marlins.