New York Yankees: 50 greatest players of all-time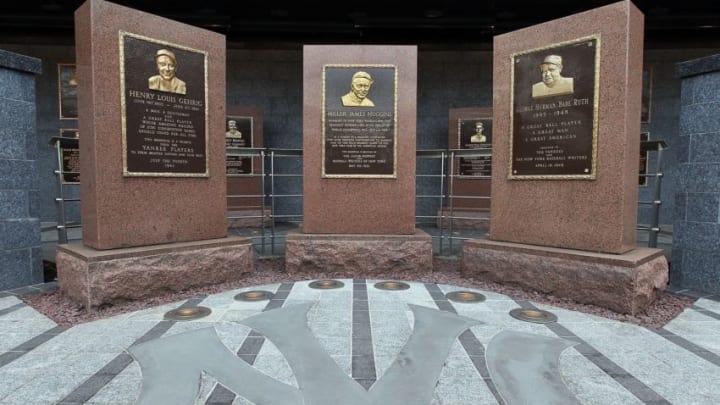 NEW YORK - MAY 02: The monuments of (L-R) Lou Gehrig, Miller Huggins, and Babe Ruth are seen in Monument Park at Yankee Stadium prior to game between the New York Yankees and the Chicago White Sox on May 2, 2010 in the Bronx borough of New York City. The Yankees defeated the White Sox 12-3. (Photo by Jim McIsaac/Getty Images) /
Roy White spent his entire 15-year career with the Yankees and got to experience some success with a pair of World Series titles late.
But he was also a constant during the lean years between the Yankees' World Series wins in 1964 and 1977, manning left field and doing the little things well.
The Yankees signed the switch-hitting outfielder in July 1961 after he graduated from high school in Compton, California, and he worked his way to the majors, debuting with a September call-up in 1965.
He was a part-timer in the outfield the next two seasons before locking down the left field job in 1968 and holding it for a decade.
The durable White led the American League in plate appearances in 1973 and 1976, topped the circuit with 104 runs in 1976 and drew an AL-best 99 walks in 1972.
An All-Star in 1969 and 1970, White could run well, had some pop, was a solid fielder, knew how to hit situationally (he led the AL in sacrifice flies in both 1969 and 1971) and had 53 career sacrifice hits.
In three postseasons with the Yankees (1976-78), White hit .278.,387/.817 with two homers, eight RBI and 20 runs scored in 25 games, playing as a starter in 1976 and 1978.
When his contract expired in the fall of 1979, White went to Japan for three more seasons before retiring in 1982.
In 15 seasons with New York, White hit .271/.360/.764 with a 121 OPS+ to go with 160 homers, 758 RBI, 964 runs and 233 stolen bases.
He returned to the Yankees as their hitting coach from 1983-86 and spent time with the organization in the front office and as a roving minor league instructor and scout.
After five years in the Oakland Athletics organization as a minor league hitting coach, White returned to the Yankees in 2004 for another three years as a coach.