New York Yankees: 50 greatest players of all-time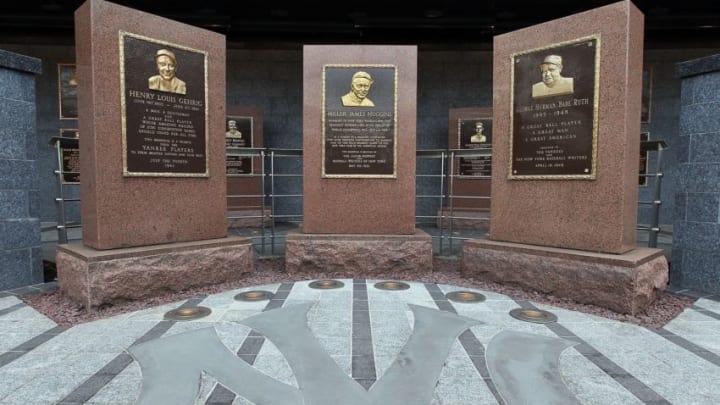 NEW YORK - MAY 02: The monuments of (L-R) Lou Gehrig, Miller Huggins, and Babe Ruth are seen in Monument Park at Yankee Stadium prior to game between the New York Yankees and the Chicago White Sox on May 2, 2010 in the Bronx borough of New York City. The Yankees defeated the White Sox 12-3. (Photo by Jim McIsaac/Getty Images) /
Graig Nettles had turned some heads with his power in three seasons playing third base for the Cleveland Indians, but turned into a perennial All-Star after being acquired by the Yankees in November 1972.
New York sent four players to the Indians to get Nettles and Jerry Moses in a six-player swap and never regretted it.
Nettles was a five-time All-Star and two-time Gold Glove winner with the Yankees, helping them to World Series titles in 1977 and 1978. He also won the American League home run crown with 32 in 1976, topping the 20-homer mark six straight years from 1973-79.
Age and injuries cut into his effectiveness and his playing time as the 1980s dawned, but he bounced back with a 20-homer season in 1983 at age 38 before he was traded to the San Diego Padres in March 1984 in exchange for lefthander Dennis Rasmussen and a minor leaguer.
He helped New York to four American League pennants by hitting .286 with five homers in 19 ALCS games, even as he didn't fare that well at the plate in four World Series appearances, hitting .221 with five RBI in 19 games.
In 11 seasons with the Yankees, Nettles hit .253/.329/.762 with an OPS+ of 114 to go with 250 homers, 834 RBI and 750 runs scored.
He was originally drafted by the Minnesota Twins out of San Diego State University in 1965 and broke in with the Twins before being dealt to Cleveland between the 1969 and 1970 seasons.
Nettles played with the Padres for three years, earning another World Series trip, and bounced around as a pinch-hitter with the Atlanta Braves and Montreal Expos before retiring at age 44 after the 1988 season.
His range at third base was exceptional — he led AL third basemen in assists three times.
Nettles played in the Senior Professional Baseball Association for its two-year run in 1989-90 and managed one season in the minor leagues in 1996.