New York Yankees: 50 greatest players of all-time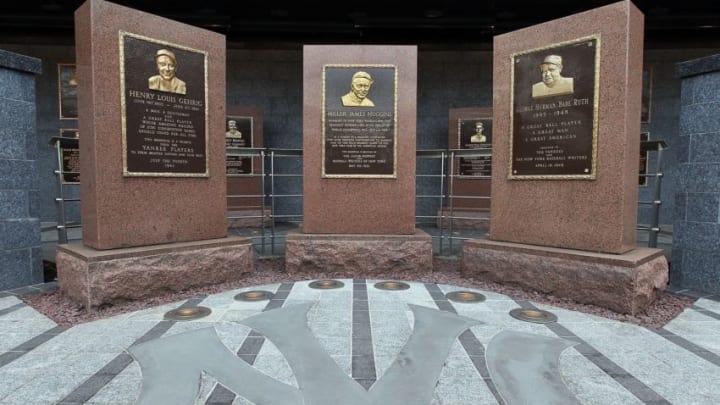 NEW YORK - MAY 02: The monuments of (L-R) Lou Gehrig, Miller Huggins, and Babe Ruth are seen in Monument Park at Yankee Stadium prior to game between the New York Yankees and the Chicago White Sox on May 2, 2010 in the Bronx borough of New York City. The Yankees defeated the White Sox 12-3. (Photo by Jim McIsaac/Getty Images) /
(Photo by Keystone/Getty Images) /
The Yankees signed acrobatic shortstop Joe Gordon from the University of Oregon in 1936 and in 1938 he stepped into the shoes of legendary Tony Lazzeri at second base.
It was a smooth transition. Gordon made the first of his six All-Star appearances as a Yankee in 1939 and was named the American League's Most Valuable Player in 1942, leading a club shorn of many of its stars because of World War II to the pennant.
Gordon entered the Army Air Force in March 1944. A licensed pilot, Gordon spent two years stationed in Hawaii and San Diego before returning to the Yankees in 1946.
Shortly after the season, Gordon was swapped to the Cleveland Indians in a straight-up deal for right-hander Allie Reynolds.
In seven seasons with the Yankees, Gordon hit .271/.358/.825 with an OPS+ of 120 to go with 153 homers, 617 RBI and 596 runs scored.
Gordon made three more All-Star teams in Cleveland and helped them to the 1948 World Series title.
Gordon hit .500 (7-for-14) with seven walks in helping the Yankees past the Brooklyn Dodgers in the 1941 World Series, finishing with a homer and five RBI in the five-game series win.
His big league career ended after the 1950 season, but he spent two seasons as a player-manager for Sacramento in the Pacific Coast League. He later became a scout for the Detroit Tigers and joined their coaching staff in 1956. Later that year, he returned to the PCL to manage in San Francisco.
He was named manager of the Indians in June 1958 and in August 1960 was part of a one-of-a-kind trade when he was swapped to Detroit for their manager, Jimmy Dykes.
Gordon would go on to briefly manage the Kansas City Athletics and was the first manager for the expansion Kansas City Royals in 1969.
He died April 14, 1978, in Sacramento at the age of 63. Gordon was posthumously inducted into the Hall of Fame by the Veteran's Committee in 2009.