New York Yankees: 50 greatest players of all-time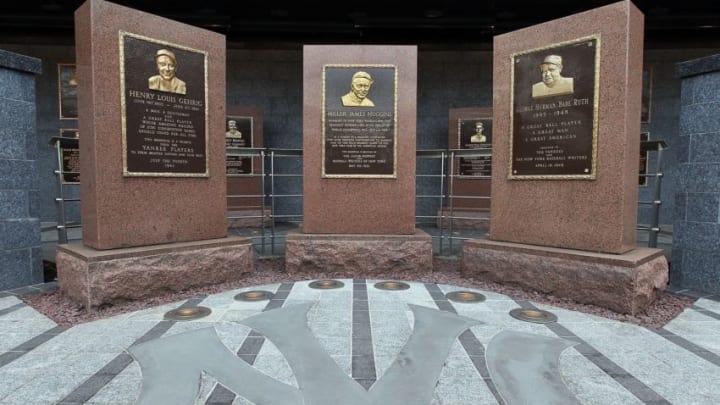 NEW YORK - MAY 02: The monuments of (L-R) Lou Gehrig, Miller Huggins, and Babe Ruth are seen in Monument Park at Yankee Stadium prior to game between the New York Yankees and the Chicago White Sox on May 2, 2010 in the Bronx borough of New York City. The Yankees defeated the White Sox 12-3. (Photo by Jim McIsaac/Getty Images) /
The Yankees landed right-hander Mel Stottlemyre off a farm in 1961.
Having pitched two seasons as Yakima Valley Junior College in Washington, Stottlemyre didn't get a deal after a tryout with the Milwaukee Braves, who said he didn't throw hard enough, according to the Society for American Baseball Research.
He moved up the farm system quickly and got his first call to the majors in August 1964.
Armed with a sinker that hitters would pound into the ground over and over again, Stottlemyre posted a 2.06 ERA and 1.167 WHIP in 96 innings to close the season and went 1-1 in three World Series starts.
Stottlemyre led the American League with 18 complete games and 291 innings pitched while posting 20 wins in 1965, but it wasn't enough to prevent the crumbling Yankees from falling to sixth place.
Despite 20 losses for a last-place club in 1966, he was an All-Star for the second straight year. He later led the AL with 24 complete games in 1969, topping the 300 innings mark in the process, and would make five All-Star squads in all.
Stottlemyre tore his rotator cuff in 1974, before corrective surgery for the problem had been devised, and a short-lived comeback in the spring of 1975 ended when the Yankees released their long-time ace.
In 11 seasons, Stottlemyre had a 2.97 ERA (112 ERA+) and 1.219 WHIP in 360 appearances, 356 of them stats, and 2,661.1 innings. He struck out 1,257 and completed 152 games with 40 shutouts.
Stottlemyre embarked on a second career as a coach, serving as minor-league roving pitching instructor for the expansion Seattle Mariners from 1977-81. He resigned after his 11-year-old son Jason died from leukemia, returning to the game in 1984 as pitching coach for the New York Mets, a job he held for 10 years.
Stottlemyre was pitching coach for the Houston Astros in 1994-95 before returning to the Yankees in that role in 1996 and serving for 10 years. He was back in the game in 2008-09 for a two-year stint as pitching coach and was awarded a plaque in Monument Park in 2015.