New York Yankees: 50 greatest players of all-time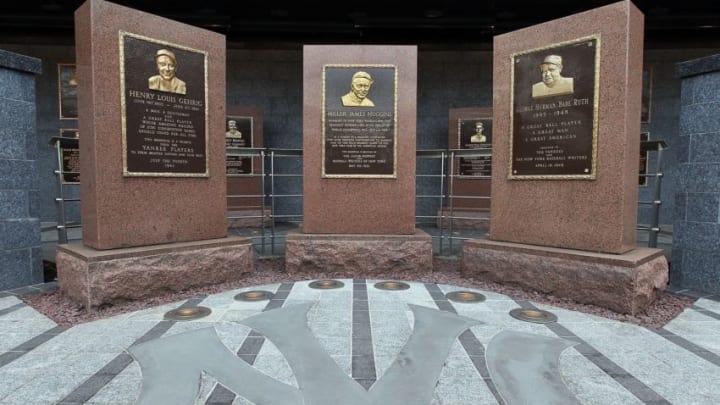 NEW YORK - MAY 02: The monuments of (L-R) Lou Gehrig, Miller Huggins, and Babe Ruth are seen in Monument Park at Yankee Stadium prior to game between the New York Yankees and the Chicago White Sox on May 2, 2010 in the Bronx borough of New York City. The Yankees defeated the White Sox 12-3. (Photo by Jim McIsaac/Getty Images) /
Tommy Henrich found his way to the Yankees as one of baseball's first free agents.
Having been assigned by the Cleveland Indians to an unaffiliated minor-league team in Milwaukee, Henrich wrote a letter to Commissioner Kennesaw Mountain Landis seeking clarification of his status, according to the Society for American Baseball Research.
Landis would rule that the Indians were not allowing Henrich a fair opportunity to reach the majors and declared him a free agent. The Yankees pounced on the young outfielder, signing him on April 19, 1937, five days after Landis' ruling.
Henrich was a part-time player for most of his first four seasons in New York before landing the starting right field job for good in 1941.
The triumph was short-lived; Henrich joined the Coast Guard in August 1942 as part of the war effort and spent three years at a training station in Sault Ste. Marie, Mich.
Henrich returned to the Yankees with a flourish in 1946 and continued to play well deep into his 30s.
He led the American League in triples in both 1947 (13) and 1948 (14) and led the AL with 138 runs scored in 1948.
Nicknamed "Old Reliable," Henrich was a five-time All-Star and part of four World Series champions.
He played his entire big-league career with the Yankees and in 11 seasons, hit .282/.382/.873 with an OPS+ of 132 and 183 homers, 705 RBI and 901 runs scored.
At the time of his death on Dec. 1, 2009, he was the oldest living Yankee at age 96.