New York Yankees: 50 greatest players of all-time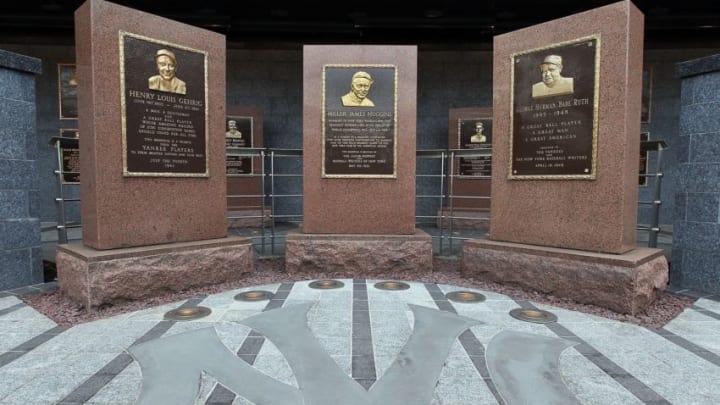 NEW YORK - MAY 02: The monuments of (L-R) Lou Gehrig, Miller Huggins, and Babe Ruth are seen in Monument Park at Yankee Stadium prior to game between the New York Yankees and the Chicago White Sox on May 2, 2010 in the Bronx borough of New York City. The Yankees defeated the White Sox 12-3. (Photo by Jim McIsaac/Getty Images) /
(Photo by Al Bello/Getty Images) /
CC Sabathia stands as one of only two current members of the Yankees to make the countdown, having come to the Bronx as a free agent on a massive nine-year, $205.9 million deal in December 2008.
The big lefty paid immediate dividends, slotting in at the top of the New York rotation and posting a 3.18 ERA and 1.189 WHIP over 705 innings in his first three seasons, starting 101 games and fanning 624 batters.
He experienced some rough patches afterward, missing most of the 2014 season with a knee injury and putting up a 4.81 ERA and 1.402 WHIP in 69 starts and 424.1 innings from 2013-15.
Sabathia stabilized things the last two seasons, notching a 3.81 ERA and 1.297 WHIP over 328.1 innings covering 57 starts. He's not the dominant force he once was, but as he has entered his late 30s, he's figured out how to remain an effective big-league starter.
During the Yankees' World Series run in 2009, Sabathia was named MVP of the ALCS after silencing the Los Angeles Angels over two starts, allowing two runs on nine hits with three walks and 12 strikeouts over 16 innings.
He led the American League in wins each of his first two seasons in New York, posting 19 wins in 2009 and coming back with 21 in 2010 and his 4.48 strikeouts-to-walk ratio in 2012 was the AL's best.
Through the 2017 season, Sabathia had a 3.75 ERA and 1.259 WHIP in 255 starts and 1,657.2 innings as a Yankee with 1,453 strikeouts and a 120-73 record.
He is a three-time All-Star as a Yankee, as well, to go with the three appearances he made in the Midsummer Classic with the Cleveland Indians in 2002-03 and 2007.
He re-signed with the Yankees last December on a one-year, $10 million deal.