New York Yankees: 50 greatest players of all-time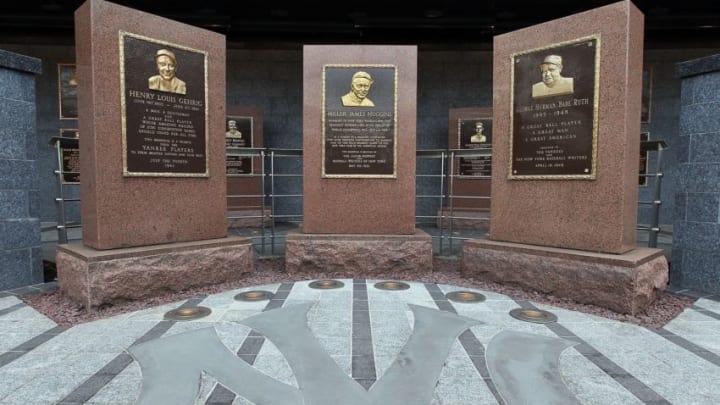 NEW YORK - MAY 02: The monuments of (L-R) Lou Gehrig, Miller Huggins, and Babe Ruth are seen in Monument Park at Yankee Stadium prior to game between the New York Yankees and the Chicago White Sox on May 2, 2010 in the Bronx borough of New York City. The Yankees defeated the White Sox 12-3. (Photo by Jim McIsaac/Getty Images) /
Hank Bauer was a solid piece of the Yankees dynasty in the 1950s, manning right field for 11 full seasons and earning three trips to the All-Star Game.
Bauer signed his first pro contract at age 18 in 1941 before enlisting in the Marines in 1942, according to the Society of American Baseball Research. Bauer was wounded in action on Guam and had bits of shrapnel in his back for the rest of his life and returned to the U.S. after the war with thoughts of abandoning baseball.
He signed a contract with the Yankees in 1946, however, because a scout remembered him from before the war and Bauer sped through the farm system and got a call up late in the 1948 season.
Bauer was with the club for good, filling in for injured Joe DiMaggio in center field early in the 1949 season before settling into right field as a platoon player with lefty swinging Gene Woodling.
Bauer became one of manager Casey Stengel's favorites, hitting just about everywhere in the lineup and gaining a reputation as a heady player. He led the American League with nine triples in 1957, but his playing time began to dwindle in 1958 and 1959 as he became a part-time player.
In December 1959, Bauer was traded to the Kansas City Athletics in a seven-player deal that most notably brought Roger Maris to the Bronx.
Bauer was briefly a player-manager in Kansas City, taking over the helm in June before being released as a player in late July.
He later managed the Baltimore Orioles to their first World Series title in 1966 and managed the A's again, this time in Oakland, for most of the 1969 season.
In 12 seasons in New York, Bauer batted .277/.347/.791 in 1,406 games with 158 homers, 654 RBI and 792 runs scored.
A native of East St. Louis, Illinois, Bauer died Feb. 9, 2007, in Lenexa, Kansas at the age of 84.