New York Yankees: 50 greatest players of all-time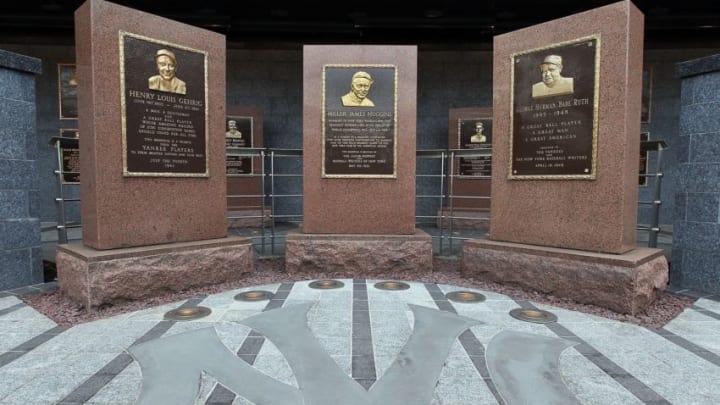 NEW YORK - MAY 02: The monuments of (L-R) Lou Gehrig, Miller Huggins, and Babe Ruth are seen in Monument Park at Yankee Stadium prior to game between the New York Yankees and the Chicago White Sox on May 2, 2010 in the Bronx borough of New York City. The Yankees defeated the White Sox 12-3. (Photo by Jim McIsaac/Getty Images) /
At the time free agent Dave Winfield signed with the Yankees in December 1980, his 10-year, $23.3 million contract was the largest in baseball history.
Winfield was solid in the strike-shortened 1981 season, hitting .294 with 13 home runs and being named to the All-Star Game. In the postseason for the first time after eight years with the moribund San Diego Padres, Winfield was 7-for-20 in the AL East Division Series against the Milwaukee Brewers.
Then the wheels came off. He was just 2-for-13 in a three-game sweep of the Oakland Athletics in the ALCS and famously went 1-for-22 in a six-game loss to the Los Angeles Dodgers in the World Series.
By 1985, the relationship between Winfield and owner George Steinbrenner had deteriorated to the point that Steinbrenner told the New York Times, referring to Reggie Jackson, that "I got rid of Mr. October and got Mr. May," in a reference to Winfield.
Winfield and Steinbrenner battled through the remainder of Winfield's time in the Bronx, with the owner eventually earning a 30-month suspension for paying a gambler $40,000 to provide information damaging to Winfield.
Through it all, Winfield was an eight-time All-Star in parts of nine seasons with New York, missing the 1989 season after surgery to repair a herniated disc. He was traded to the California Angels in May 1990 in exchange for right-hander Mike Witt.
As a Yankee, Winfield hit .290/.356/.851 in 1,172 games with 205 homers, 818 RBI, 722 runs and an OPS+ of 134.
He played through the 1995 season and was inducted into the Hall of Fame in his first year of eligibility in 2001. Winfield is one of two athletes — Dave Logan from the University of Colorado being the other — to be drafted by teams in MLB, the NFL and the NBA.