Yankees: Four Off Season Mulligans For GM Brian Cashman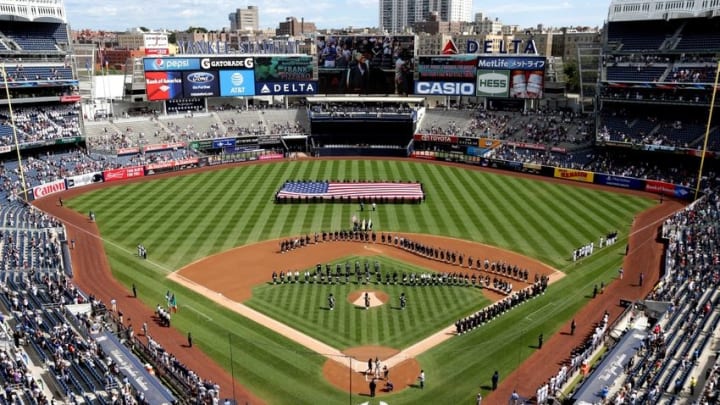 Andy Marlin-USA TODAY Sports /
Uh Brian, Did You Forget Something Here?
I can't count all the stories that appeared in Yanks Go Yard and elsewhere over the offseason regarding the need for the Yankees to strengthen their starting rotation. And yet, despite those repeated cries for help, the Yankees starting rotation is essentially the same as it was in early October when the 2016 season ended. Save that is, for a battle that is forthcoming for the fifth spot.
And just yesterday, Brian Cashman went for some "insurance" against the possibility of an unhealthy Greg Bird, signing a home run and strikeout king to the roster. But at the same time, we have no insurance against Michael Pineda self-imploding again. And no guarantee that Luis Severino will develop his head so that it's in tune with his body. And no insurance that C C Sabathia can make it through 30-35 starts, unscathed by injuries. Or, that Masahiro Tanaka will not pack his bags and leave the team after the 2017 season if he decides to exercise the opt-out clause in his contract.
It's Not About Adding An Ace
To be clear, we're not talking about adding an ace. It never was about that. And when the Red Sox decided to dance to the tune that the Yankees always played, signing Chris Sale in return a portion of their future, most of us applauded the Yankees willingness to not engage in the sweepstakes that were sweeping the nation. And the same was true when Jose Quintana became the flavor of the day.
The ace of the staff will come next season when money is freed up, and we can begin to ask ourselves, for instance, how Jake Arrieta or Yu Darvish might look in a Yankees uniform when they become free agents.
Instead, we are talking about a number two, or at worst, a number three in the starting five. Think of the names that have been passed by the Yankees this winter. None of them will light up Broadway, but any of them could have given the team innings and competitive starts.
Andrew Cashner, one-year, $10 million. Edison Volquez, two-years, $22 million. Bartolo Colon, one-year, $12.5 million. For sure, this is not chump change, but these salaries are comparable to the $7.4 million Pineda will earn this season and far below the $25 million is due.
And just a couple of days ago, Jason Hamels, who was an integral part of the Cubs championship team last year, was scooped up by the Kansas City Royals amid rumors that the Yankees were "in on the talks." The Yankees have never been a team that talks, they walk! They make the moves they need to make, and the rest of the league better get out of their way.
But, not this offseason. Cashman is going with what he's got. Which, when you think about it, isn't much at all if the Yankees truly expect to be competitive in what promises to be a very tough American League East division.
Are The Yankees Really In It To Win It
But maybe that's the point. And though Brian Cashman will never admit to this, perhaps he doesn't expect the Yankees to be competitive this year, setting his sights on 2018 and beyond. And he's thinking to himself, let the old man go out there 30 or 35 times this year to earn his $25 million (all courtesy of Spotrac). And let Michael Pinedo and possibly Luis Severino burn out to the point where there's no argument next year about their "potential."
Or, on the flip side, let them both have a decent season this year, one that increases their trade value, a development that would open up a broad range of possibilities for the Yankees to pursue if it ever transpired.
The interesting thing, though, is the number of free agent pitchers out there for Cashman to sign, if he wanted to move this late in the game. Jair Jurrgens, Doug Fister, Colby Lewis, and a half dozen others can be had for a mere pittance, and certainly, less than it cost to sign the man with 206 strikeouts last season. Even Tim Lincecum might be worth a shot, or Chris Capuano on minor league deals.
Instead, Brian Cashman is giving the team nothing regarding adding a proven starter to the mix. Go figure.