Yankees CC Sabathia: Mentor, Teacher, and Role Model
In all likelihood, this will be the final year that CC Sabathia will appear in a Yankees uniform.
He is being relied on to deliver the same thing he always has, which is innings and keeping his team in the game with a chance to win. But at the same time, the Yankees may be hoping that he will also be able to mentor the younger pitchers on the staff by drawing from his vast and varied experiences in the big leagues.
When the 2017 season begins, CC Sabathia will be pitching in his seventeenth season in the big leagues. The adjective usually attached next to his name is "workhorse" to describe him and to give you an idea of what that has meant over the course of his career, consider this.
In 2008, Sabathia was traded from the Cleveland Indians to the Milwaukee Brewers who were making noise at the time and would eventually move deeply into the playoffs that year, largely on the back of Sabathia. In one stretch that summer, Brewers manager Ned Yost worked Sabathia hard with a 130-pitch game, two other games over 120 pitches and all but two games over 100 pitches in a Brewers uniform.
That was eight years ago when Sabathia was throwing 95 and blowing hitters away with little or no effort. The following season he would arrive at the Yankees of course, and pitch them to a World Championship. He then went on to pitch 200 innings or more for five consecutive before the streak ended in 2014 when his body finally balked at the abuse it had taken.
When he returned to action with the Yankees, he was quick to learn that his fastball seldom reached even 90 on the gun and that he would need to rethink and relearn how to pitch and be effective at the major league level.
It is here that Sabathia has a chance to mentor the younger pitchers on the staff with some advice from a wise old sage. Because there will come a time when the likes of Severino, Bettances, and Chapman will find that 95-100 mph no longer matches up with their ability, whether it is due to injury or just Father Time.
So the message from Sabathia can be to begin the process now, so you'll be prepared to meet that challenge when it arrives. And perhaps even more importantly when speaking to younger guys who still carry that air of invincibility with them, to convince that the time will come, and it's only a matter of when it will come.
So what that might mean is that pitchers do a bit of work on the side learning how to throw new pitches, not for use in a game although that could happen, rather just to begin the process of preparing for the future. Can you imagine, for instance, what Aroldis Chapman would be like if he had an effective changeup in his repertoire to go along with that heater.
And then, there is the "other thing" too that Sabathia can convey to these younger and impressionable players. And that's, of course, the issue that developed with Sabathia's abuse of alcohol. Obviously, he can't babysit them at night when they find themselves in the glitter of a three-game set in Los Angeles, but he can let them know that he's available to talk about his experience if they want to seek him out.
And of course, that's a key thing too because it's a two-way street, and if he suggests to one of them, "Hey, wanna see how I throw my changeup?". And they go at it half-heartedly or maybe not at all; then that might be a problem that needs to be solved by management.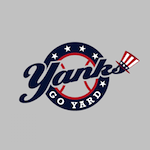 Want your voice heard? Join the Yanks Go Yard team!
Write for us!
For Sabathia, it also could be an excellent chance for him to decide if may he wants to continue his career in baseball as a pitching coach. But in any event, the contribution that he makes to the Yankees team off the mound might be just as significant as the ones he makes while on the mound. Listen up boys because you will never have this opportunity again.