Yankees Aaron Hicks Proving His Doubters Wrong with Hot August
Outfielder Aaron Hicks finally looks like the player the New York Yankees thought they were getting when they traded for him last November.
While the Gary Sanchez show has been getting all of the attention this month in the Bronx, his teammate Aaron Hicks has quietly been having an excellent August for the Yankees, hitting .303/.333/.455 (112 wRC+) in 69 plate appearances.
Finally given regular playing time following an injury to leftfielder Brett Gardner, Aaron Hicks has been showing Yankees fans exactly why the team has been so patient with him despite his dismal performance this year.
Anti-Hicks sentiment probably reached its peak in the run-up to the August 1st trade deadline, when many fans and pundits were calling for him to be dumped on any club that would take him.
His overall batting line at that point was an inexcusable .185/.249/.284 (40 wRC+) in 234 plate appearances as the fourth outfielder. Anecdotally, his bat seemed to heat up every time he was given regular playing time and it seemed like he was having trouble finding his rhythm as a bench player.
Hicks has now seemingly earned his way into the regular outfield rotation, sharing time pretty evenly with Gardner, Jacoby Ellsbury, and Aaron Judge.
Going forward, he seems like the front-runner for a 2017 starting job, with the Yankees seemingly likely to move either Gardner or Ellsbury to further the rebuilding effort this winter.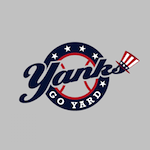 Want your voice heard? Join the Yanks Go Yard team!
Write for us!
The team obviously shouldn't be making any long-term plans based on one month of at-bats, but Hicks has always seemed like a guy right on the brink of a big-time break-out.
The Minnesota Twins have a very long track record of truly awful player development. The current fiasco is reminiscent of the mistakes the Twinkies made with Hicks. They took him in the first round (14th overall) in the 2008 amateur draft and he raked all the way up through Double-A in 2012.
The Twins inexplicably jumped him right over Triple-A and had Hicks break camp with them in 2013. He was subsequently demoted, and bounced between Double-A, Triple-A, and the majors for the next three years.
He finally looked like he was starting to put it together as a 25-year-old with Minnesota in 2015, hitting .256/.323/.398 (96 wRC+) with strong defense, which is why the Yankees targeted him last offseason.
What Aaron Hicks really needed following his semi-breakout was regular playing time in order to continue progressing. Unfortunately the Yankees haven't been able to give it to him up to this point, but hopefully they are rectifying that so they can really see what they have in the toolsy outfielder.