New details of Aroldis Chapman tattoo injury that sealed his Yankees fate are disgusting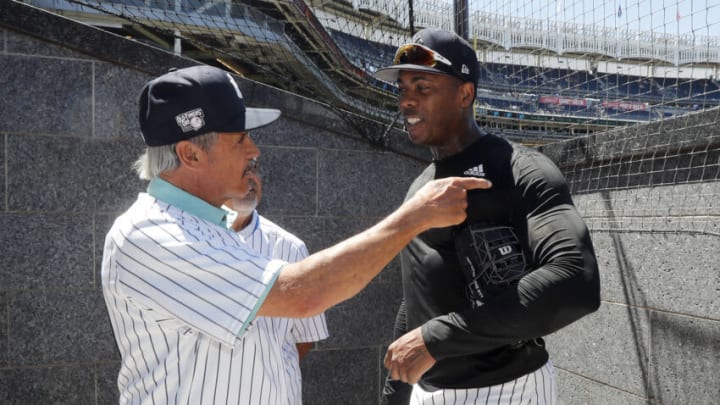 NEW YORK, NEW YORK - JULY 30: (NEW YORK DAILIES OUT) Ron Guidry (L) talks with Aroldis Chapman #54 during New York Yankees Old Timers' Day before a game against the Kansas City Royals at Yankee Stadium on Saturday, July 30, 2022 in New York City. The Yankees defeated the Royals 8-2. (Photo by Jim McIsaac/Getty Images) /
When New York Yankees closer Aroldis Chapman suddenly disappeared mid-summer to fight off a tattoo-based infection, fans' jaws dropped, then clenched, then smiled slightly.
While no one should wish an injury on even the most reviled athlete, Chapman's presence on the Yankees has been at best uncomfortable and at worst completely unwarranted for years, based on far more than his on-field performance. Now, with just a month left on the struggling closer's most recent three-year contract, this felt like the perfect pivot point for both parties.
Chapman eventually came back in mid-September, but his final few weeks of tuneups were all for naught; he wasn't given any assurance of making the Yankees' playoff roster, refused to fly in for a workout Friday, and is now off the team for all intents and purposes.
The tattoo infection informally ended his Bombers career after all, and the information the general public learned about the injury this weekend, following Chapman's malfeasance, helped calcify why he might've had an especially difficult time finding the strike zone after returning.
According to Lindsey Adler's writing in The Athletic (subscription required), Chapman was very much at risk of something deadly serious.
Yankees ex-closer Aroldis Chapman's disgusting tattoo injury sealed his fate in the Bronx
Right. So not only was Chapman suffering from an infected midseason tattoo that eventually sent him to medical care with a "spiking fever," but he kept the issue from the Yankees as the pus built up. Seems like something that would affect one's ability to pitch, especially if said pitcher was a finely-tuned coil of sinew and wires who can either be deadeye or a disaster, depending on the tiniest tweak.
As rumors swirl about Chapman not being "all in" in the pursuit of a Yankees championship all year long, it's very telling that Brian Cashman included a jab at the closer's tattoo situation during his press conference wrapping up the latest bit of nonsense.
It's unclear where the fracture began — and it should've begun years ago — but it certainly just about ended when Chapman hid his pulsating leg from the team for no apparent reason, likely in some misguided attempt to keep his fingertips on the cliff's edge of the closer race.
Yankees fans won't have to worry about Chapman anymore, but it's clear he has plenty of reasons to continue worrying about himself — and his career.