Yankees broadcast calling out Boston fans during Red Sox series rules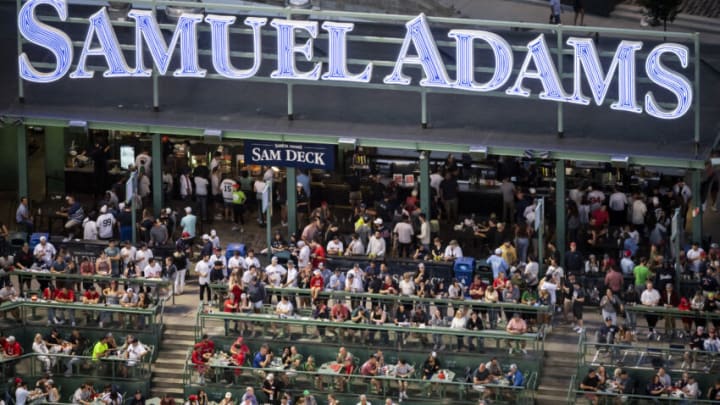 BOSTON, MA - AUGUST 13: An aerial general view of the Samuel Adams Deck during a game between the Boston Red Sox and the New York Yankees on August 13, 2022 at Fenway Park in Boston, Massachusetts.(Photo by Billie Weiss/Boston Red Sox/Getty Images) /
The New York Yankees escaped with a 7-6 win over the Boston Red Sox at Fenway Park on Tuesday night after a combination of manager Aaron Boone and Wandy Peralta nearly gave it away.
But a win's a win! Doesn't matter if the Yankees are leading the division and the Sox are in last place. New York has constantly struggled in Boston, mainly because Fenway Park is among the most laughable hitter's parks in all of baseball. It'd be great if the Yankees could use that more to their advantage, but every time it seems like only the Sox are able to capitalize when the rivals meet.
In the end, the Yankees avoided disaster and thankfully backed up the trash talk from the YES broadcast booth. Michael Kay and John Flaherty took a little shot at Boston fans early in the game.
Usually, that stuff comes back to kill the Yankees. Remember "New York, New York" at Fenway in 2018? Or when general manager Brian Cashman dared to say "Do Damage"? Though this wasn't close to that magnitude, it was pleasant for Yankees fans to see some sort of slight not come back to crush them like a tidal wave.
Fenway did end up filling many seats as the night went on, but Kay and Flaherty were right: where was everybody early on? This is Yankees-Red Sox! It doesn't matter the standings.
Yankees broadcast booth takes shot at Boston fans during Red Sox series
Sadly, Boston fans can't shift their attention to the New England Patriots, because, well, they're bad too! A 20-7 loss to the Miami Dolphins this past Sunday that featured Mac Jones doing a whole lot of nothing, the rushing attack getting stifled by Miami's defense, and the Patriots defense giving up a number of big plays to blow the game can't have Boston fans ready to confidently switch over to football just yet.
Jokes. A good time. But don't tell that to Red Sox fans! This mere observation and harmless "shot" at the city of Boston was far too much for the fragile folk tuning into the game/hanging out on social media. "Nooooo, please don't make fun of us! That's mean! Even though we do everything in our power to kick our opponents/rival fans when they're down as often as we can!"
Joke's on the Yankees' broadcast, though. Fenway Park ended up having 34,250 in attendance on Tuesday night, which filled 91% of the park's capacity. Darn.
Eh, guess joke's on them, though. They attended and saw another loss. The Sox are now 6-8 against the Yankees and in danger of losing the season series. There's one left in Fenway and four remaining at Yankee Stadium.
Yankees still suck, though!
It'll be hard to shift focus to the Patriots this next month, too, with games against the Steelers, Ravens and Packers on the docket. Our deepest sympathies go out to Boston fans, who might struggle to see a championship in 2022 and be the butt end of a few jeers over the course of the next couple months. Tough life. Celtics basketball can't come soon enough.