3 Red Sox players Yankees fans are grateful weren't sold at trade deadline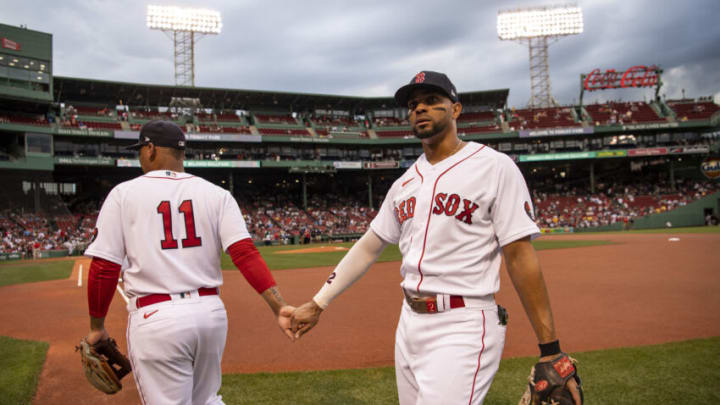 BOSTON, MA - AUGUST 9: Rafael Devers #11 reacts with Xander Bogaerts #22 of the Boston Red Sox before a game against the Atlanta Braves on August 9, 2022 at Fenway Park in Boston, Massachusetts. (Photo by Billie Weiss/Boston Red Sox/Getty Images) /
At first … New York Yankees fans wanted all these guys gone. They wanted the Boston Red Sox completely gutted, never to be seen again after the Aug. 2 trade deadline. In the end, Chaim Bloom didn't really sell, though, and that worried some fans for down the stretch of the 2022 season because a fiesty Red Sox team fighting for a Wild Card spot would've been dangerous.
Turns out … the Red Sox have gotten worse by making additions at the trade deadline. Yes, they parted with Christian Vazquez, Jake Diekman and Jackie Bradley Jr., but they acquired Eric Hosmer and Tommy Pham. That objectively makes them better!
But they're 7-13 since the All-Star break and 3-6 since the trade deadline. At 55-58, the Sox would pretty much need nothing short of a miracle to get into the postseason (they're six games back of a Wild Card spot in the loss column, battling the Jays, Mariners, Orioles, Rays, Twins and White Sox) and make a run, so it's just funny how that's turned out to be the case when Bloom didn't sell off any of the team's most valuable assets. Of course, they've experienced miracles before…
That's technically a good thing for Yankees fans because there's little-to-no chance these big names remain in Boston once the offseason arrives. If we're to judge the commentary from the clubhouse, as well as the Red Sox' cost-cutting measures, how could you even dream of a return being in the cards?
While this could hurt the Yankees in the short term, Boston's long-term vision took a hit when Bloom opted against receiving hauls for these three stars.
The Red Sox actually helped the Yankees by not trading these three players
Xander Bogaerts #2 of the Boston Red Sox (Photo By Winslow Townson/Getty Images) /
3. Xander Bogaerts
There were loose rumors earlier in the offseason that the Red Sox might consider trading Xander Bogaerts at the deadline, but it never materialized. Perhaps many people at the time didn't realize why that wasn't a likely possibility, though. The man's got a no-trade clause!
Here's the story: Bogaerts has an opt-out clause in his contract after this season, which he's sure to exercise because he's out-performed the extension he signed a few years back. The Red Sox haven't been engaging in any talks to rework his deal. That last part made some believe Bogaerts could be on the move if there was no future for the two sides.
But hear us out … why would Bogaerts waive his no-trade clause to help the Red Sox get value in return for him when they won't pay him what he's worth after all he's done for the franchise? That's why it was hilarious when the Red Sox came out and said they had no plans to trade the slugger.
Of course you had no plans! You don't dictate his future! And he doesn't want to help you after you've actively worked to not help him!
Yankees fans are glad he's still here, though, because he would've brought back a pretty significant haul to Boston if he were traded. We'll deal with him for two more months and watch him walk in the offseason.