Does Trevor Story update actually help Yankees in free agency bidding?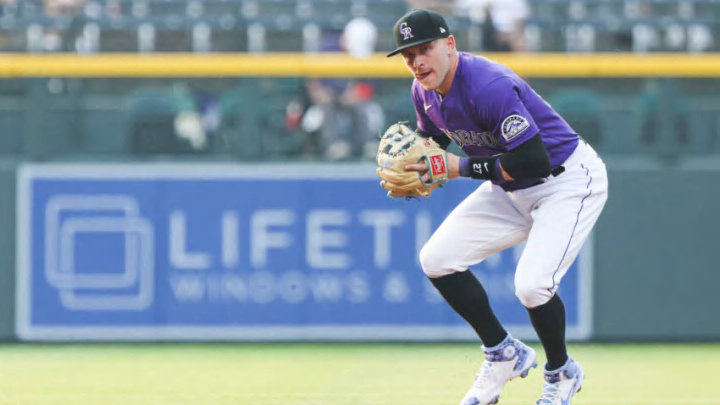 DENVER, CO - AUGUST 16: Trevor Story #27 of the Colorado Rockies fields a ball against the San Diego Padres at Coors Field on August 16, 2021 in Denver, Colorado. (Photo by Michael Ciaglo/Getty Images) /
The absolute best-case scenario for the New York Yankees in addressing the shortstop position with championship-like aspirations while also expressing concern for the near future would be getting Trevor Story to sign a one- or two-year contract.
Why would Story even consider doing this? Well, he's now competing in a market with only Carlos Correa after failing to sign a deal before the lockout, which was just as difficult because Corey Seager, Marcus Semien and Javier Baez were colluding to clog up the shortstop market.
Not to mention, he's also coming off a down year (for his standards) and some elbow injury concerns, which may have affected his shine in free agency. But there's a way for the Yankees to help out the 29-year-old and benefit from his potential presence.
Might Story be inclined to rebuild his market for the 2023 or 2024 offseasons by signing a bloated short-term deal? This has been discussed at length, but now a recent revelation could further drive the scenario home.
According to Patrick Saunders of The Denver Post, Story has no desire to switch positions, which was previous speculated if he signed a long-term contract.
It's been speculated teams were considering shifting him to second or third at some point, and at the trade deadline we wondered if the Yankees would bring him in to play some center field, too. Does this give Story even more motivation to prove in 2022, '23 and possibly '24 that he's still a star shortstop that deserves top-of-market money?
Did Trevor Story position update just help the Yankees a ton?
There might be a big need for shortstops these next two offseasons, too. Though all of Xander Bogaerts, Trea Turner and Dansby Swanson can hit the open market after 2022, you'd have to expect two of those three land extensions/contract re-works given their importance to their current teams. After the 2023 season, you have a class headlined by Brandon Crawford, Nick Ahmed and Isiah Kiner-Falefa.
If Story isn't getting the five-to-eight-year offers he might be hoping for this time around or teams are asking him to move within the next few seasons, why wouldn't a one-year, $30 million contract or a two-year, $50 million deal with a player option for the second year interest him? Show the rest of the league there aren't any concerns with the elbow and prove 2021's dip in production was a fluke to rebuild value and confidence.
That way, he can become a free agent again at 30 or 31, which is still a favorable time to land a life-changing contract. And if he can help the Bombers make a deep playoff run, it'll be more money in his pocket.
Meanwhile, the Yankees upgrade like kings at a glaring area of need and still maintain flexibility to promote their top prospect(s) to take over in 2023 or 2024. The fewer reasons the Yankees have for adding $200-plus million contracts to the payroll, the better (by their standards, not the fans'). And Story's potential willingness to prove he's the game-breaking All-Star he was in 2018 and 2019 could help out the cause.