Yankees, Mets stand as one to honor 9/11 victims on 20th anniversary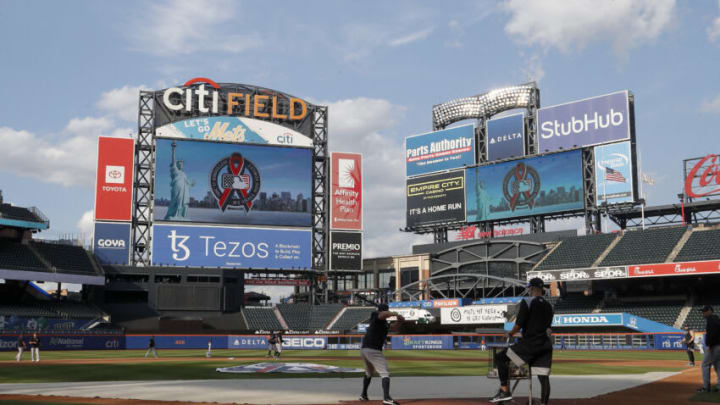 NEW YORK, NEW YORK - SEPTEMBER 11: The New York Yankees take fielding practice before a game against the New York Mets (Photo by Jim McIsaac/Getty Images) /
The New York Yankees and New York Mets faced off in what will assuredly be one of the most emotional and solemn games this season, as both squads will play on the 20th anniversary of the September 11 terrorist attacks that killed thousands.
With the Yankees advancing to the World Series in 2001 and Mets legend Mike Piazza hitting a home run in the first game in New York City following the attacks, both of these moments served as defining events that helped the sports world and the city as a whole start to return to normalcy after such a shocking event.
The Yankees and Mets are well aware of the fact that tonight's game is about much more than baseball, and they made sure to show the country that they are united in their mourning of those we lost.
Before the game, both the Mets and Yankees took the field as "one, unified New York" with players intermingling with one another on the baseline. Both teams are sporting New York Police Department and New York City Fire Department hats, while the Mets have a unique home jersey with "New York" across the front in the 2001-era font.
The Yankees and Mets honored the victims of September 11.
Before the game, the Yankees and Mets stood at the top of their dugouts as they prepared for a rousing moment of applause to thank the first responders that kept the city safe then and continue to do so today.
Ceremonial first pitches were thrown out by Joe Torre and Bobby Valentine, who were managing both New York clubs on this day 20 years ago. These two men played a big part in helping the sports landscape get back on stable ground following the attacks.
Prior to the game, the Yankees and Mets held a moment of silence in order to pay homage to those who lost their lives in the events of 20 years ago.
Star outfielder Aaron Judge broke out a special set of cleats for this game. The left shoe, adorned with the statue of liberty in pale blue, honored the NYPD, FDNY, and Port Authority. The dark blue right shoe pays tribute the EMTs, fire patrol, and courts that helped restore order in the chaotic days after the event.
This is always going to be an emotional day for the city, but the Yankees and Mets combined for a fitting tribute that shows that those who lost their lives will never be forgotten by this city or this country. Some things are just bigger than baseball.