Yankees Game Today: Yankees vs Athletics Lineup, Odds, Prediction, Pick, Pitcher, TV for Aug. 26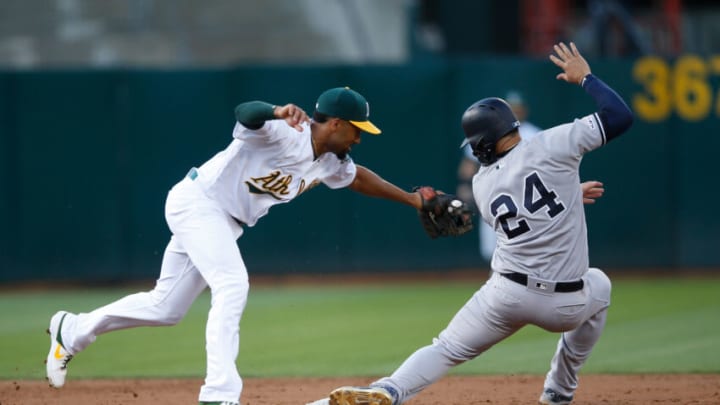 OAKLAND, CA - AUGUST 22: Marcus Semien #10 of the Oakland Athletics tags Gary Sanchez #24 of the New York Yankees out at second during the game at the Oakland-Alameda County Coliseum on August 22, 2019 in Oakland, California. The Athletics defeated the Yankees 5-3. (Photo by Michael Zagaris/Oakland Athletics/Getty Images) /
Just a few weeks ago, when the New York Yankees were teetering on the edge of postseason contention, it seemed like their season would either begin or end with this trip to Oakland, which has long been a house of horrors for this current edition of the Bombers.
Now? The Yanks are 5.0 games up in the loss column on the A's, who've fallen slightly behind the Red Sox in the race for the second Wild Card.
If we had our choice of opponents, we'd opt for winning the division, of course. But if we had to choose a Wild Card Game foe, it would … not be the Red Sox, quite frankly!
We're in a little bit of a pickle here. Well, not really. Win as many games as you can, worry about that later. But still. Kind of unsavory.
So, does the Yankees' hot streak end at 11, the franchise's longest since 1985? Or can they keep things going in a traditionally tough west coast environment?
What Time is the Yankees Game Today?
The Yankees and A's play Thursday night at — get ready for it — 9:40 PM EST. What is that?
What Channel is the Yankees Game on Today?
You can watch the Yanks locally on the YES Network, or in the Oakland area on NBC Sports California. Nationally, this game will be broadcast on MLB Network.
Yankees vs Athletics Odds Today
According to our friends at WynnBET, this one seems likely to come down to the wire. On the moneyline, the Yankees are -116 (bet $116 to win $100), and the A's are … -105 (bet $105 to win $100)! Yanks are slight favorites, neither can get you + odds. Oy.
On the run line, the Yankees are +140 to cover a -1.5 spread; the A's are -165 to either win outright or lose by one.
The over/under's been set at 8.5, and both the over AND under odds are -110.
Yankees Pitcher Today
Jameson Taillon (8-4, 3.94 ERA), July's pitcher of the month, looks to continue his sterling streak against an opponent he's already faced this season at Yankee Stadium: former Yanks prospect James Kaprielian (7-4, 3.25 ERA), who's firmly in the Rookie of the Year conversation.
The first time we watched this duel, the first-half Yankees bullpen blew it mid-game. Of course they did.
Yankees Starting Lineup
Luke Voit sits…again. Gio's back!
Yankees vs Athletics Prediction Today
All good things must come to an end, right? The A's have lost eight out of 10, which is also a good thing, and that streak has allowed the Bombers to build an extended lead we never saw coming ahead of this showdown. A series split would keep the status quo in place — though, of course, no fan's ever fully satisfied with that.
This will be the most hostile road environment the Yankees have played in since they left Fenway, and the off day allowed them to recharge their entire bullpen. We're going to go out on a limb and predict a 4-2 Yankee victory, with the A's leaving the bases loaded in the ninth at 1:00 AM EST.
Download the WynnBET App And Make Your Pick Here
Yankees vs Athletics Live Stream
If you need a live stream, grab a free trial with fuboTV!