Yankees: Tyler Wade's fight to become a starter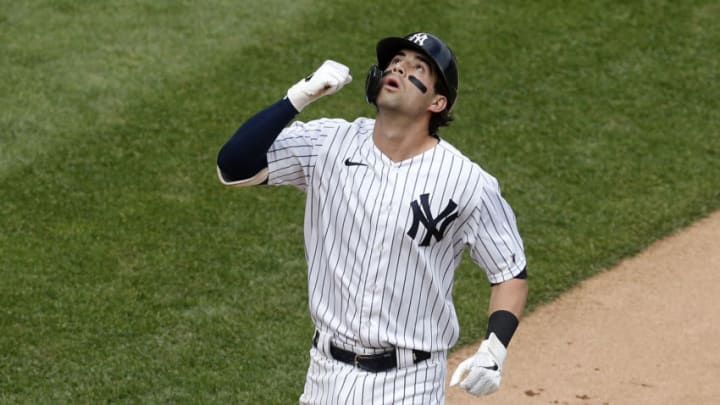 NEW YORK, NEW YORK - SEPTEMBER 26: (NEW YORK DAILIES OUT) Tyler Wade #14 of the New York Yankees celebrates his fifth inning two run home run against the Miami Marlins at Yankee Stadium on September 26, 2020 in New York City. The Yankees defeated the Marlins 11-4. (Photo by Jim McIsaac/Getty Images) /
If you are one of the devoted fans to have followed the New York Yankees in recent years, a storyline has been unfolding this current season that is as inspirational and exciting as an underdog southpaw getting his hand raised at the end of a long and exhausting bought.
Few fights are more grueling. Few fights last this long. Few fights are more enjoyable to watch — but only if you've been here since the beginning.
Once a year for the last six years, Tyler Wade has double-knotted his spikes at George M. Steinbrenner Field for the first day of spring training with the ultimate goal of carving out some sort of role for himself on the New York Yankees.
For six years, he has failed. For several entire seasons, he has gone without the faintest signal or sign of success. Six years without a pat on the back or even an acknowledgment that his hard work was making a difference in the grand scheme of things.
Tyler Wade debuted with the Yankees in 2017 (back when Jacoby Ellsbury was our centerfielder), and immediately upon his arrival was introduced and labeled very simply as "utility". While this is a dying breed of ballplayer in the game today, almost every team has a Tyler Wade in some form. He plays multiple positions, maybe steals a base or two, and definitely can't hit. The utility player is the guy who only gets at-bats to lay down sac bunts because he's the guy who took the time to learn how to sac bunt.
Up until late this season, that's exactly who Tyler Wade was and that's what we expected from him. He showed no signs of ever being anything more. 
Tyler Wade is currently hitting nearly .270.
I'm not going to regurgitate Tyler Wade's entire current 2021 stat line, but to put it very simply and plainly – he is playing better than he has ever played in almost every categorical field.
Yankees infielder Tyler Wade is quietly having a great season.
He doesn't step to the plate trying to hit home runs. He bunts for hits when he can and steals bases when they're free to take. He does the things this ball club simply refuses to do.
What Tyler Wade brings to this team is more than his Baseball Reference page, it's an electricity and excitement, the doctor-prescribed antidote for a tree branch-swinging Giancarlo Stanton strikeout.
https://twitter.com/Yankees/status/1424895846500425728
For the first time in his career, Tyler Wade doesn't trigger a chain of eye rolls when he steps to the plate. He has earned and warranted some degree of belief and trust from us fans that there will be some sort of a contribution when he's in the lineup.
Wade is not one of the nine most talented baseball players on the New York Yankees, but as long as this team continues to struggle with injuries, an opportunity at one of his six possible positions seems likely.
If the Yankees were completely healthy (as if), Tyler Wade is the first man off the bench. But when he does get his name called, when he does get his shot…I'm sure he'll put something together one way or another.