Yankees choose wild option for spot start over Deivi Garcia Wednesday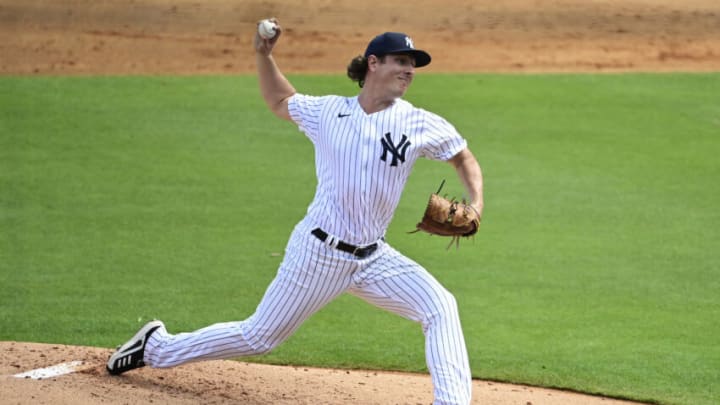 TAMPA, FLORIDA - FEBRUARY 28: Asher Wojciechowski #60 of the New York Yankees throws a pitch during the third inning against the Toronto Blue Jays during a spring training game at George M. Steinbrenner Field on February 28, 2021 in Tampa, Florida. (Photo by Douglas P. DeFelice/Getty Images) /
The New York Yankees are trying something so crazy it just might work on Wednesday against the Phillies.
Or so crazy it just might disrespect one of the team's top prospects while attempting to save their top four starters for a weekend series in Boston. One of the two.
With space to fill thanks to Michael King's IL stint and Nestor Cortes Jr.'s COVID-IL trip, New York entered their two-game set with Domingo German and a large "TBD" penciled in for the second contest. It was hard to feel confident with that pairing, but conventional wisdom suggested Deivi Garcia, someone we've at least seen before, would get the second game.
Well…could we interest you in "someone who was injured all season long who you completely forgot about" instead?
While discussing Darren O'Day's sad season-ending (career-ending?) surgery and his suddenly-fast lineup that includes five lefties (!) on Tuesday night, Aaron Boone dropped an intriguing bomb on the gathered press corps.
Remember Asher Wojciechowski? Probably not? Well, he's starting Game 2.
Yankees starter Asher Wojciechowski is being activated for Wednesday's game.
Is it possible Boone was just floating this to see what the reaction might be? If so, everybody get on Twitter and start firing off those cringe emojis. You don't usually see this team raising the white flag alongside the first pitch.
Has Deivi Garcia earned this chance? Not really. Only his recent Triple-A work has been passable, and on the season, he's lost the strike zone entirely, registering a 7.21 ERA with 32 walks in 43.2 innings at the Triple-A level. We still anticipated a promotion was more likely than a rogue Wojciechowski sighting, though, a pitcher who harkens back to the days of Darrell Rasner and Sidney Ponson.
What's Garcia's timeline, you might be wondering? When does he line up with the proceedings?
Well, glad you asked. See, the Yankees could've bumped him one more day and at least gone with a familiar former top prospect for one day's worth of midseason duty.
Instead, they're going to use Garcia for the RailRiders' game Tuesday and activate Wojciechowski specifically for this bloodbath at the stadium.
To add insult to injury, do you remember Wojciechowski whatsoever from this spring's action? If you do, you likely remember him getting manhandled…by these very same Phillies!
He got rocked to the tune of a nine-spot in the fourth inning of spring action on March 4, at which point many of us went, "Nope, probably not a guy!"
Well, we were right…until the all-important stretch prior to the trade deadline, which will decide if these short-sighted Yankees are buyers or sellers.
Oh my GOSH, it's such a rush that Wojciechowski is both active and starting a key game. Domingo German and Wojciechowski in a two-game set. Sure, we'd rather they face Philadelphia than Boston, but what if the answer was "neither"?