Yankees: Brian Cashman's quote on Aaron Boone certainly isn't a vote of confidence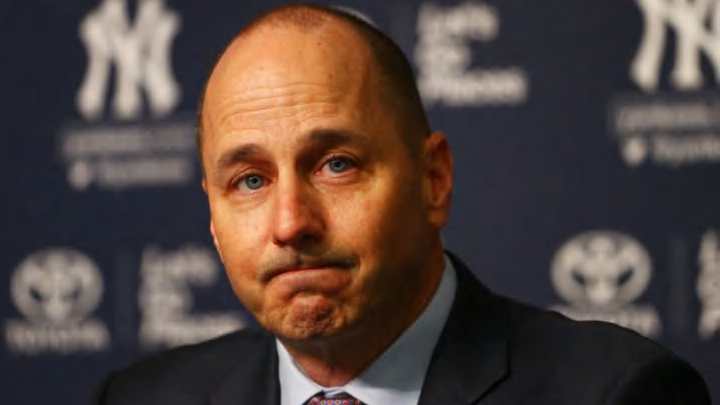 NEW YORK, NY - DECEMBER 06: Senior Vice President, General Manager Brian Cashman speaks to the media prior to introducing Aaron Boone as New York Yankee manager at Yankee Stadium on December 6, 2017 in the Bronx borough of New York City. (Photo by Mike Stobe/Getty Images) /
For what feels like the 10th time in the last two and a half months, New York Yankees general manager Brian Cashman addressed the media amid another tough stretch for the team.
The message? Mostly the same. "The play is unacceptable. We have the right people on the roster and coaching staff to turn it around. The fans rightfully expect more."
Fans respect facing the music, but that doesn't do much for anybody anymore. At this point, there needs to be a monumental change if the players aren't going to wake up. Maybe a manager change? Two earth-shattering trade deadline acquisitions? More promotions from the minor leagues?
Yankees fans did get some insightful information from Cashman's latest presser, however. It wasn't entirely useless.
Some of it good. Some of it bad. Let's start with the good. Cashman acknowledged that the Yankees could bypass the luxury tax threshold at the trade deadline if the right move is there and if ownership approves. That provides hope for a potential Yankees' playoff run. But, as with most other things, we will believe it when we see it.
The bad news? Not only will there not be a managerial change, but Cashman doesn't sound too crazy about Aaron Boone at the moment.
Brian Cashman's quote about Yankees' manager Aaron Boone was pretty wild.
That assessment of Boone sounds like a gambler who just lost a small fortune to the mob and is dealing with the consequences. "Welp, this is life now. And it's no longer my own."
This came after Cashman said, "We have really good coaches, we have a really good manager. We have what it takes in this clubhouse already." Call us crazy, but if that's the internal feeling about Boone, could that explain why he's yet to be offered a contract extension?
Fans figured one would be coming in the previous months, especially in the offseason when Cashman said he was hoping Boone would last as long as Joe Girardi and Joe Torre. At this point, it feels like the Yankees would need a miracle turnaround for Boone to be back in 2022.
It might not entirely be Boone's fault, but changes will have to be made if this team underachieves or fails to reach the World Series for a fourth straight season. At different points last year and this year, we've asked, "How much worse would the Yankees be without Aaron Boone?" We don't know the answer for sure, but it really cannot be much worse. He rarely ever saves games with managerial decisions. This Yankees roster is mostly on autopilot. In fact, he ruins games more than he salvages them.
One could argue Cashman's commentary on Tuesday was more in line with that thought process. Why? The Yankees are doing just enough at this juncture of the season to prevent the organization from making overarching changes. It's still early. They're hovering above .500. Maybe a momentous change will work. Maybe it'll make things worse.
If things continue on this trajectory, Cashman will likely be asking himself in the offseason, "How much better would the Yankees be without Aaron Boone?"