Yankees fans throwing baseballs at Rays caps utter disaster of a game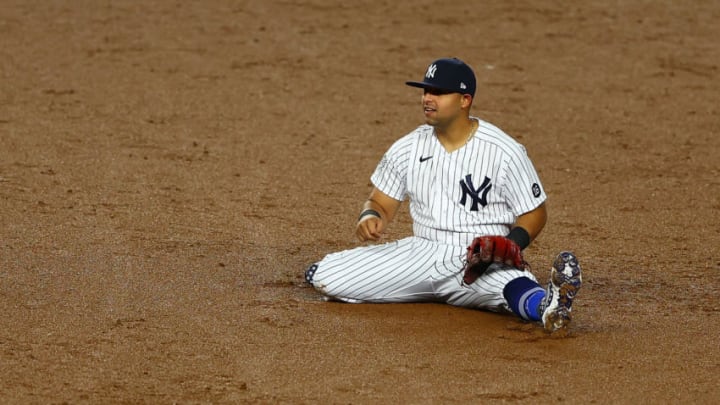 NEW YORK, NEW YORK - APRIL 16: Rougned Odor #18 of the New York Yankees reacts during the game against the Tampa Bay Rays at Yankee Stadium on April 16, 2021 in New York City. (Photo by Mike Stobe/Getty Images) /
Remember when the world used to sarcastically mock Yankees fans by running their mouth about a "True Yankee Moment" for every new acquisition? Now, a "True Yankee Moment" means the first time a new Yankee face plants and flails on a national stage, typically against the Rays.
Or the moment when fans choose to embarrass themselves with some sort of disgusting public behavior.
For what felt like the 100th consecutive series opener against Tampa Bay, the Yankees looked entirely overmatched, outwitted, and outgunned. They threw inning-ending double plays into right field. They were down 2-0 three batters in thanks to the inherent genius of the opener. They got one-hit by the eminently hittable Michael Wacha.
And at no moment during this disastrous cluster did we have even an iota of faith Aaron Boone would have a handle on how to command the locker room in the aftermath.
We're not declaring the season over. We're declaring it will be over quickly if someone in the Yankees locker room doesn't decide to wake up the rest of his teammates.
After 13 games, we haven't seen so much as a twitch from this lifeless group.
That's reason enough to be angry, but never reason enough to throw endless loose baseballs on the field at the Tampa Bay Rays, which is what fans in attendance somehow did. As if we couldn't possibly be embarrassed enough by the effort on the field.
The Yankees are in too much trouble for a glazed-over Aaron Boone to handle.
Back when the Yankees had some semblance of heart, they used to employ a 10-time champion who liked to say, "It's getting late early out here."
If this continues, another Yogi-ism might be more appropriate. Something about how nobody goes to Yankee Stadium anymore, but without the quip's second half.
Following this complete laugher in the freezing rain, Boone will take to the podium and reassure his team they're good. A team that didn't hit enough in key moments in the 2020 postseason. A team that added bargain-basement pitching and surrounded Gerrit Cole with question marks. A team that outright refuses to add the reinforcements any other contender would entertain.
A team that, quite frankly, hasn't felt the same since the Giancarlo Stanton addition in 2017.
Boone will say to the gathered media that once this team begins to "bang," they'll be alright. They'll be alright enough to reach their peak level from 2020: good enough to lose in five quiet offensive games to the eventual American League champion (and World Series loser).
There are a million unanswered questions flitting around this team that I don't think I want the answer to. But can somebody help me out with this simple one? Why hasn't Aaron Boone gotten himself ejected yet?
It's the lowest-hanging fruit. Sometimes it fires up a group of slumpers, and sometimes it doesn't. It worked in 2019, though. And home plate umpire Jerry Layne spent Friday treating the "Savages" like the de-clawed kittens they appear to be in 2021. So go fight for your team, Boonie. If they won't, you have to.
Nope. Nothing. Zilch. Silence. Keep popping that gum!
This game, of course, got so bad that disgraceful and disgusting Yankee "fans" began to hurl baseballs at the Tampa Bay outfielders. One clattered all the way to shortstop. This team is unwatchable, but years of unfulfilled promise or mis-stated potential have made the fans even worse. That, too, is a problem Boone can't solve.
Are you a "glass half full" supporter? Well, where are the positives? The bullpen? Sure, but they'll be burned out soon, as the Yankees proceed to hand the ball everyday to four-inning starters.
Aaron Judge? Yeah, he's been great. Has it mattered? Has anyone noticed?
Gary Sanchez has been solid, except for the time he tripped off first base and ended a rally all by himself. DJ LeMahieu has reportedly been "above league average," but maybe they give his wRC+ bonus points for double plays? What happened to Clint Frazier? What on earth happened to Clint Frazier?
If I never hear about high exit velocity groundouts to short ever again, it'll be too soon.
Yes, it's still early, if you believe only in the date on the calendar and not the fight in the 26-man roster that simply does not work. It hasn't worked, as a unit, since 2019. It certainly doesn't work without Luke Voit spewing the unique brand of motivational venom he brings to the locker room.
And Aaron Boone is drowning in deeper water by the day — or, he would be, if the Yankees' front office didn't relish the fact that they can control his every move. He's got a lifetime contract, for all intents and purposes. He'll never get a reprieve from watching this downward-sloping effort curve.
That, perhaps, is Boone's most unsolvable problem of all.