Yankees: Gary Sanchez's baserunning blunder ruined golden comeback opportunity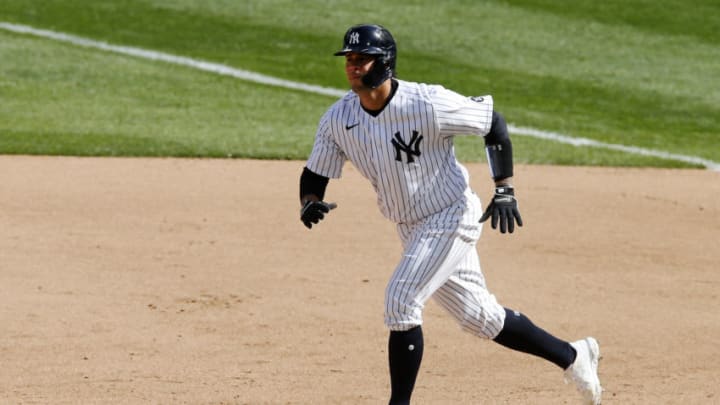 NEW YORK, NEW YORK - APRIL 01: (NEW YORK DAILIES OUT) Gary Sanchez #24 of the New York Yankees in action against the Toronto Blue Jays at Yankee Stadium on April 01, 2021 in New York City. The Blue Jays defeated the Yankees 3-2 in ten innings. (Photo by Jim McIsaac/Getty Images) /
Things can only go somewhat well for the New York Yankees for a short amount of time. Two straight wins? Let's follow that up with yet another demoralizing loss.
In this one? Jameson Taillon looked flat, got smacked around, and didn't last four innings. The lineup had three hits through the first six innings. The Yankees are the only team in MLB not to score in the first inning. Oh yeah, and another error for their eighth (fifth-worst in the league) on the year!
Let's add a baserunning blunder in there riiight when they start to get on track offensively, why don't we!
Unfortunately, Gary Sanchez was on the wrong end of this one. It's a shame he drew the ire of fans for this because he's truly been one of the lone bright spots for the team.
But you simply cannot do this. In the top of the eighth inning, the Yankees started to string together some hits and get guys across the plate. They made it a three-run game with runners on the corners and two outs for Aaron Hicks.
A golden opportunity for him to redeem himself after his early struggles, right? Welp, not quite.
We will say, that was a tough one to judge with the way it bounced, but if you're Sanchez and lack even average speed, it's probably best to hang out at first base, let Giancarlo Stanton take third, and give Hicks a chance to do something with the bat.
One swing could've tied it. The Yankees didn't need to put another runner in scoring position. They just needed to keep the inning alive.
The greater theme of this conversation? The Yankees are devoid of fundamentals. Whether it's baserunning (see the stat above), situational hitting, playing small ball, or making routine defensive plays, New York is below average when it comes to all of that. Do championship teams constantly fail more times than not in those departments? We'll leave that for you to answer.
If not for the Rays shooting themselves in the foot on Sunday, Gerrit Cole mowing down the competition on Monday, and the bullpen getting the job done at every turn, we really don't know where this team would be right now.