Yankees: Is it time to get impatient for a World Series win?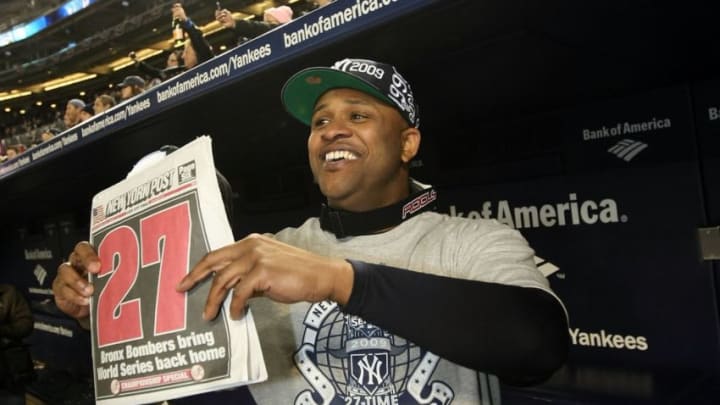 NEW YORK - NOVEMBER 04: C.C. Sabathia of the New York Yankees celebrates in the dugout with a copy of the New York Post after their 7-3 win against the Philadelphia Phillies in Game Six of the 2009 MLB World Series at Yankee Stadium on November 4, 2009 in the Bronx borough of New York City. (Photo by Nick Laham/Getty Images) /
Back in November, Mike Lupica published a piece on MLB.com asking if it was time for the Yankees "to get impatient." He noted that the Yankees are going into their twelfth consecutive year without a World Series Win.
This is the team's third longest drought since acquiring Babe Ruth, with previous dry spells lasting from 1979-95 and 1963-76.
Lupica is right to raise this issue. When fans are constantly fed the line that anything short of a World Series win is a failure, then yes, they have reason to be disappointed. But can such an absurd standard be justified?
The Yankees' average seasonal winning percentage between 1979 and 1995 was .532. Between 2010 and 2020, it was .568 (treating 2020 as 37% of a season). That's equivalent to 92 versus 86 wins per season, respectively.
To put that difference into perspective, 37 teams have made the playoffs since 2010 with 92 wins or fewer. Only two have made the playoffs with 86 or fewer.
And keep in mind that that 86 number is an average. During the doldrums of 1979-95 there were some truly terrible Yankees teams. The 2010-present Yankees, by contrast, are yet to have a losing season.
Should Yankees fans be more disappointed with the modern era?
But maybe that's not the right comparison to make. A hardliner might argue that the Yankee teams of both of these eras were failures. There's no glory in being the lesser of two disappointments.
It turns out, however, that even when compared to real Yankees, the 2010s Yankees come out looking pretty good. The Dodgers are coming off a World Series championship, and a phenomenal winning percentage of .717 (over the course of a shortened season, that is). But what has the Dodgers' winning percentage been since 2010? .573 (.57254). A team that wins 57.3% of their games wins just short of 93 games in a season. The Dodgers have been better than the Yankees, but barely.
Perhaps what Yankee fans should be impatient about is the team's inability to acquire truly elite pitching.
As solid as pitchers like Luis Severino and Masahiro Tanaka have been, it's hard not to feel embarrassed when our rotations have been pitted against the likes of Boston's in 2018 and Houston's in 2019. In that sense alone, Yankee fans have had reason to grow impatient. But as we can now (hopefully) look forward to a full season of Gerrit Cole, even that concern appears a moot point.
The Yankees of the last decade have provided plenty of compelling entertainment. Even at their worst, they have made admirable runs at decency, and given players like Vernon Wells nice farewell cameos.
If the Yankees prove as stingy with Aaron Judge's future free agency as they were with D.J. LeMahieu's, then I'll be ready to boo and hiss with impatience. For now, though, I'm more than happy with the joys this "savage"  team has given me.