Yankees: Shocking Brett Gardner report suggests he's probably not returning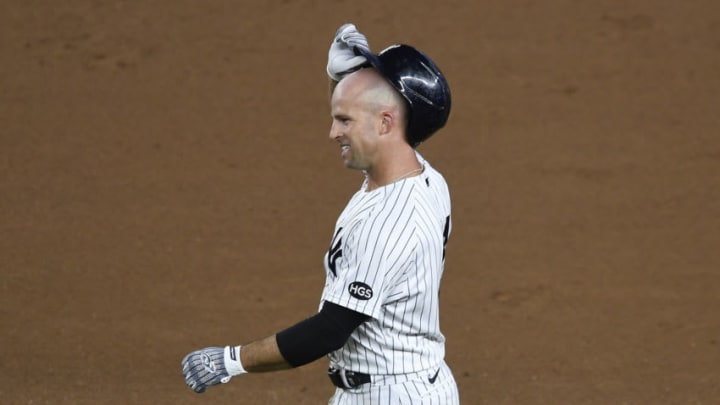 Brett Gardner #11 of the New York Yankees smiles during the sixth inning against the Tampa Bay Rays at Yankee Stadium on September 02, 2020 in the Bronx borough of New York City. (Photo by Sarah Stier/Getty Images) /
You're wondering what's going on with the New York Yankees and Brett Gardner, aren't you? Just about everyone thought the Adam Ottavino trade freed up the necessary money to bring back the veteran outfielder for one last go-round in the Bronx, but there's been nothing. In fact, there's even less than the nothing that we've heard!
We haven't even heard anything about potential alternatives. Is the outfield simply going to consist of Aaron Judge, Clint Frazier, Aaron Hicks and Mike Tauchman? Is Greg Allen legitimately going to get playing time? Is Giancarlo Stanton going to see any reps in the field?
These are all legitimate questions because, according to the latest reports, the Yankees have yet to make an offer — or even BEGIN negotiations — with the 13-year veteran. That's why you haven't heard anything about Gardner for quite some time now.
Brian Cashman's wishy-washy comments about Gardy a couple of weeks back are starting to make a lot more sense if this report holds any weight. The general manager danced around questions about a reunion with Gardner, but Cash didn't give a straight answer, and then later on in the discussion he said the organization is happy moving forward with this current roster.
Gardner had a career year back in 2019 and we're certainly not going sit here and judge him for his lackluster 2020, which, by the way, he turned around considerably during the second half. We simply cannot be evaluating players as seriously as we would a full 162-game campaign.
But it's starting to feel like the Yankees might be, or they don't feel the need to pay another outfielder when they're pressed up against their self-imposed financial restrictions.
Everyone was hoping Gardner's final season in pinstripes wouldn't come during pandemic baseball in front of ghosts at Yankee Stadium, but that's sadly starting to feel more and more like the reality due to the silence on this front.
Then again, maybe the Bombers are considering one more salary dump trade before they give Gardy a call. Yeah, we'll hold out hope for that, because we can't imagine him putting on another uniform come Opening Day.