Yankees insider sheds light on plan for Brett Gardner and rest of offseason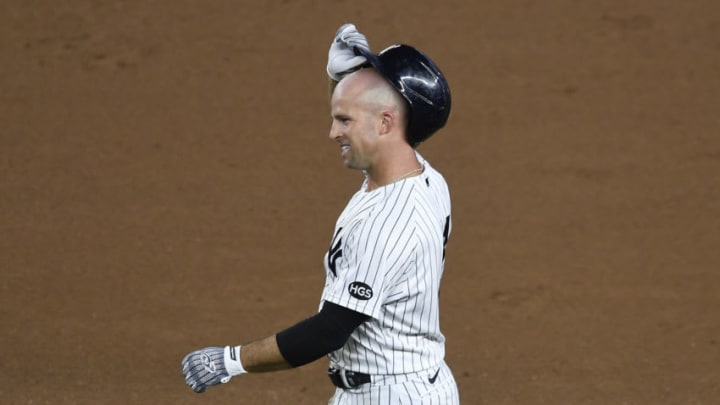 Brett Gardner #11 of the New York Yankees smiles during the sixth inning against the Tampa Bay Rays at Yankee Stadium on September 02, 2020 in the Bronx borough of New York City. (Photo by Sarah Stier/Getty Images) /
What will the Yankees do with Brett Gardner? And are they done adding?
Like it or not, the Yankees' frugal offseason plan has resulted in a bunch of well-thought-out swings at the American League championship.
Was Joe Musgrove more of a "sure thing" than Jameson Taillon? You could argue it, though we're not exactly Musgrove loyalists. Was Adam Ottavino more likely to impact the Yankees positively in 2021 than Darren O'Day? Seems about equal, but one of the men cost 1/4 of the amount.
Was DJ LeMahieu for six years at $90 million the bargain of the century? Yes. That one's indisputable.
After a slow two months to begin the offseason, it would be fair for most fans to expect the work to be wrapped up two weeks before Spring Training — but that would be an erroneous assumption.
According to Bob Klapisch's latest Q&A session, the extremely-plugged-in team insider believes that another bullpen piece is on the way, and the ball very much sits in the Yankees' court when it comes to Brett Gardner's return.
The Yankees are never, ever, ever going to pass $210 million and they still have non-Gardner work they'd like to do. Make of that what you will.
In recent days, we've seen depth outfielders sign for essentially the minimum, with players like Gerardo Parra accepting $1 million deals. Gardner's been one of the most valuable outfielders in the game over the past several years, but even the rosiest projections for his services in 2021 feature him as a fifth outfielder who can contribute with guttiness.
Is that really worth over $1.5 million? Will he accept that type of evaluation? The Yankees are more than willing to wait to find out.
And as for that bullpen spot, it's encouraging to know they're still searching. There are plenty of prospects on hand who could take over the fifth spot on the pecking order, from Nick Nelson to Jonathan Loaisiga, but none have earned it yet.
If any of the top four arms go down, too, there could be trouble afoot.
Expect Brian Cashman to make an addition or two before clearing three roster spots (O'Day still requires a corresponding move).
Will one of them be Gardner for a finale season? Only at the Yankees' price.