Yankees should be laughing at the Red Sox for ridiculous Nick Pivetta hype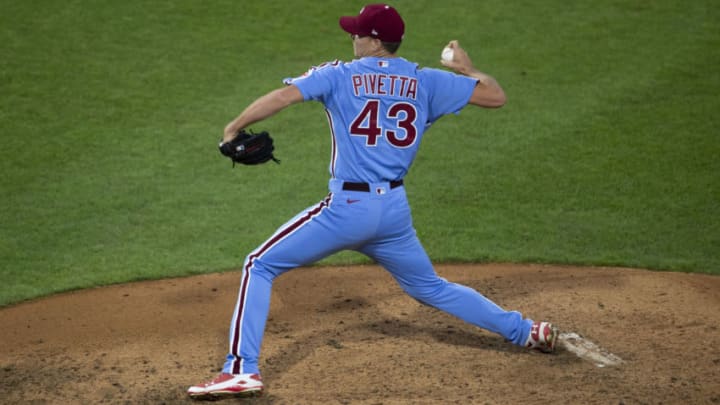 PHILADELPHIA, PA - AUGUST 06: Nick Pivetta #43 of the Philadelphia Phillies throws a pitch against the New York Yankees at Citizens Bank Park on August 6, 2020 in Philadelphia, Pennsylvania. The Phillies defeated the Yankees 5-4. (Photo by Mitchell Leff/Getty Images) /
Go ahead, we dare you. Go type in "Red Sox" on Google and see what results you get. For some sick reason, the world is trying to inform baseball fans that the Red Sox got a "steal" in Nick Pivetta, the pitcher they traded for in a deal with the Philadelphia Phillies last year.
Is this really where Boston is at this point? They've gone from chugging Sammy Adams on their stupid duck boats incessantly trashing the New York Yankees in wake of the Red Sox' 2018 World Series win to … celebrating the salary-dump Mookie Betts-David Price trade to … touting Pivetta as a potential diamond-in-the-rough trade acquisition. Does this city even have an identity?
At least Yankees fans, though some have bought into the whole "don't spend too much on X player!" discourse, hold their front office and organization accountable. Many aren't completely satisfied with what the team has done this offseason and there's been nonstop criticism about the obsession of remaining under the $210 luxury tax threshold.
You know what, Yankees fans? An 11-year drought sure does suck, but at least we aren't these people.
Why are the Red Sox trying to hype up Nick Pivetta?
Want some more nauseating headlines?
Red Sox: Nick Pivetta's appealing upside draws comparisons to Tyler Glasnow
MLB Rumors: Rays tried hard to beat Chaim Bloom, Red Sox in Nick Pivetta trade
Boston Red Sox 2021 Roster: Why I love the Garrett Richards signing
You remember Garrett Richards too, right? The guy the Red Sox signed for $10 million while Boston fans laughed at the Yankees for giving Corey Kluber $11 million because that was too expensive?
Let's not get distracted, though. Back to Pivetta.
Hey Sox fans, you know why the Rays tried hard for Pivetta? Because this is a "Rays trade." A more coherent definition of that would be "digging for talent at the bottom of the barrel because you're too cheap to pay anybody." That's the Red Sox now! Why spend money, try to make the Yankees' lives worse, and gun for the World Series when you can operate like a booster club runs your franchise?
Get excited, Boston! Pivetta, who will be 28 during the 2021 season, owns a burnished 21-30 record with a 5.40 ERA, 1.43 WHIP and 434 strikeouts across 94 games (73 starts), totaling 406.1 innings since 2017. Does he have a chance to rebound with the Red Sox? Absolutely. Change of scenery. Removed from Pitching Hell in Philly. A more potent offense behind him.
But is this the move to get all hyped up about? His FIP, which is a telling metric among pitchers, is still bad overall. Typically, you could find some hope in that stat if one's ERA is bad. Can't here. So instead, we'll get all jazzed up about spin rate, a flat fastball, and a Tyler Glasnow comparison — another guy who isn't good but is just really tall, throws really hard, and looks like a male supermodel.