Yankees: These players should be on MLB's and Yanks' Mount Rushmore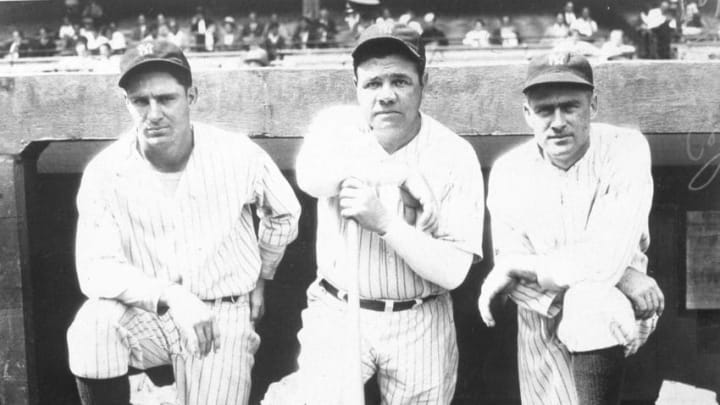 New York Yankees outfielders, feat. Earle Combs (Photo by Mark Rucker/Transcendental Graphics/Getty Images) /
BRONX, NY – 1961: ( l to r) Outfielders Roger Maris and Mickey Mantle of the New York Yankees pose for a portrait prior to a game at Yankee Stadium in New York in 1961. (Olen Collection/Diamond Images/Getty Images) /
3. Mickey Mantle
Mickey Mantle was selected AL MVP three times, won the Triple Crown in 1956, and hit 18 home runs and drove in 40 RBI in 12 World Series (with the Yanks winning seven of those Fall Classics).
Similar to DiMaggio's unbelievable record of hitting in 56 games in a row, it is hard to imagine another ball player surpassing Mantle's home run and RBI totals in World Series play. If only he'd also had several additional postseason rounds to beef up his October statistics like the kids who make their mark these days.
The Oklahoma native and Hall of Famer hit 536 home runs (several were record tape-measure shots) and drove in 1,509 RBI.
Mick ended his career with a slash line of .298/.421/.557. He retired with a career WAR of 110.2. While Mantle experienced several serious injuries during his playing days, he was the best player in the game when he was healthy.