Here's why Yankees should still be worried about Mets in DJ LeMahieu chase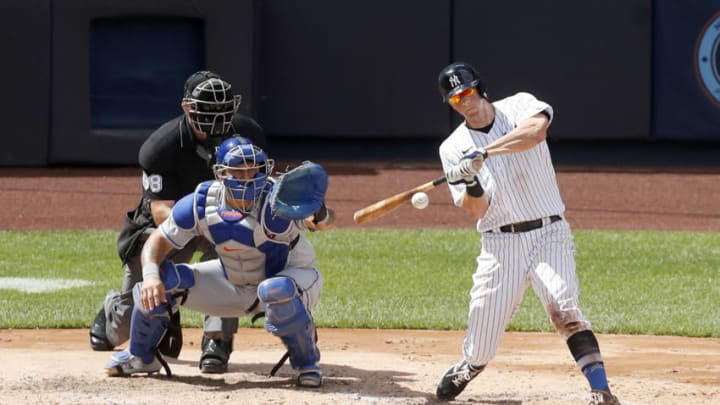 NEW YORK, NEW YORK - AUGUST 30: DJ LeMahieu #26 of the New York Yankees in action against the New York Mets at Yankee Stadium on August 30, 2020 in New York City. The Yankees defeated the Mets 8-7. (Photo by Jim McIsaac/Getty Images) /
The Yankees need to be concerned about the Mets landing DJ LeMahieu.
Regardless of the negative DJ LeMahieu reports that have polluted the internet on Sunday and Monday, many insiders still predict he'll re-sign with the New York Yankees. However, that doesn't mean fans who want DJ back will be any less concerned with his current status. He's frustrated. The Yankees aren't budging. It's not a great situation.
Want more of a reason to be worried? The New York Mets, who just traded for Francisco Lindor and Carlos Carrasco, appear to be going for it all in the short- and long-term. What's even more excruciating? The Mets traded both of their middle infielders — Andres Gimenez and Amed Rosario — to Cleveland in the blockbuster deal with the Indians.
That means there's a vacancy at second base … kind of. At least, the situation is a lot less fluid.
Sure, the Mets could move Jeff McNeil there, but at this rate it doesn't seem like Steve Cohen and Co. will be chasing George Springer at his (reported) desired $175 million price tag. If that's the case, keeping McNeil in the outfield could be the move, which … leaves an opening at second base. And with a Michael Conforto extension looking unlikely, that clears up another outfield spot a year from now. Can't be wasting McNeil at second, and certainly can't be relying on Robinson Cano!
LeMahieu won't be cheap, but he'll be a lot cheaper than Springer! Fewer years, less money, and exactly in line with Cohen's desire to bring a World Series to Queens within the next 3-5 years. LeMahieu's likely looking at four-year deal right now, but he's vying for that fifth year. The Mets swooping in here to give him a five-year, $110 million deal really isn't all that crazy.
The only issue is that the Mets need to look ahead with their rotation — Noah Syndergaard and Marcus Stroman will be free agents after 2021, and that'll be a big hit for them. Keeping one or both of them will be costly. Exploring the free agent market for other arms next offseason won't be an easy task either, since we're staring at a potential work stoppage and the price for starting pitching continues to increase every year.
But money isn't supposed to be that much of an issue for Cohen, who is worth $14 billion. Perhaps bringing in LeMahieu and signing Lindor to an extension will make them feel more comfortable in settling their middle infield. Then they can worry about pitching later with the $54 million they have coming off the books after 2021.
If the Mets can quickly get their ducks in a row and have a clear outlook for the next couple of seasons, we don't see why LeMahieu wouldn't be a target for them if his situation continues to sour with the Yankees. The fit is there. The money is there. And LeMahieu wouldn't have to move.
It's a valid concern to have, Yankees fans.