Yankees: Reasons behind NYY ditching Staten Island affiliate are wild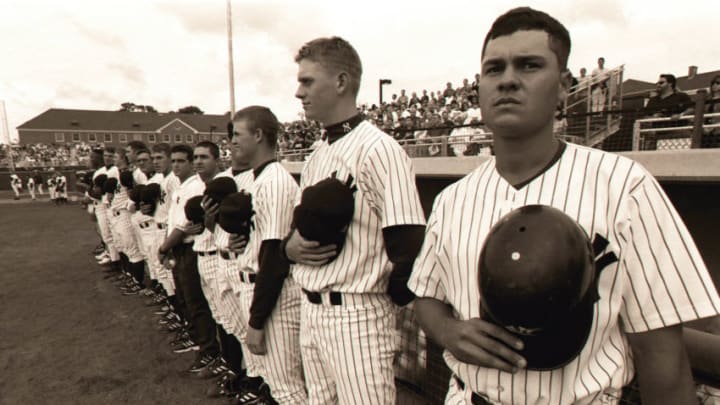 F 356030 006 15Jun99 Staten Island, New York Staten Island Yankees Class A Minor League Baseball. (Photo By Jonathan Elderfield/Getty Images) /
The Staten Island Yankees are no more, and these stories about their sad existence prove they were the ultimate disaster.
The Yankees are about to engage in a major reshuffling of their minor-league affiliates following the total cancellation of the 2020 season, reportedly adding Somerset, NJ and a Hudson Valley squad instead of their current teams in Trenton, Staten Island and Charleston.
It's jarring for many fans, who've grown used to the team's highly stable set of affiliates; Staten Island's been around since 1999, while the other partnerships have thrived since 2003 and 2005.
But perhaps there was something more to the team severing ties with Staten Island after a 20-plus-year relationship. Several things more, in fact.
According to Yankees minor league expert Robert Pimpsner, there were a ton of isolated conflicts between Staten Island's ownership group and the parent club that all built up to a catastrophic fracture. And, unfortunately, the minutiae of the arguments is a little bit hilarious; turns out, this franchise has very much fallen into disrepair.
Now, come on, Yankees! Have a little fun!
To be fair to the Staten Island crew, the Pizza Rats name won a cornball team naming contest and became, eh, a temporary adjustment for the team.
However, if you bought Staten Island merchandise over the past few years, odds are it was Pizza Rats-related. Other than that name shift, they simply weren't selling. Sorry, Yankees ownership!
Unfortunately, there was so much more to this decision, though. What was once a new stadium with a beautiful view of downtown New York fell very much into disrepair over the past decade or so, as attendance also waned. How much disrepair? Ugh, so much disrepair.
Just brutal. You shouldn't be able to rip apart a baseball stadium at the seams, I don't care how strong a coach you are.
Pimpsner also told tales of stadium drainage leading to unsafe conditions several days after storms, as well as players arriving in Staten Island and complaining that they had been treated better in the Appalachian League, supposedly a lower level of Yankees baseball.
Oh, and their jerseys were a decade old and falling apart. You know, that old chestnut.
We're a bit thrown off by the transition of affiliates, but in the long-term, it seems like it might be a good thing for the Yanks to get out of Staten Island.
This toxic and disintegrating relationship isn't helping anyone, from the fans to the players.