Yankees should try this alternate pitching plan vs Rays in ALDS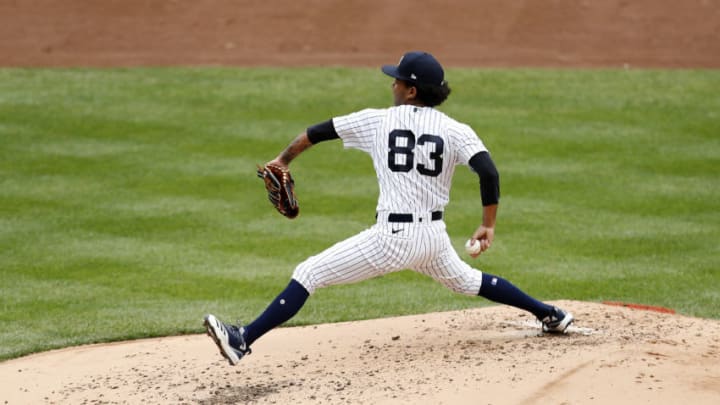 NEW YORK, NEW YORK - SEPTEMBER 26: (NEW YORK DAILIES OUT) Deivi Garcia #83 of the New York Yankees in action against the Miami Marlins at Yankee Stadium on September 26, 2020 in New York City. The Yankees defeated the Marlins 11-4. (Photo by Jim McIsaac/Getty Images) /
The Yankees should change things up and start Deivi Garcia in ALDS Game 2 instead of Masahiro Tanaka.
If there's one thing we know about the Tampa Bay Rays, it's that they're going to get real weird on the mound for the duration of the ALDS. Up is down, black is white, someone named Peter Fairbanks is going to be closing games. It's up to the Yankees to shake off the weirdness and persevere.
But, as long as we're planning to see something strange, why not throw a curveball at the Rays, too?
Specifically, a Deivi Garcia signature curveball.
We already know how the Rays are plotting things out on the neutral turf in San Diego — per the team's tweet on Sunday afternoon, they're trotting out Blake Snell, Tyler Glasnow and Charlie Morton in order for the first three contests. We'll never understand how the Yankees allowed Morton to go from one rival to another on a cheap deal, but we digress.
Aaron Boone plans to deploy Gerrit Cole in Game 1 (naturally), and the only sure thing in the remainder of the rotation is Masahiro "Playoff" Tanaka — but after what we saw in Game 2 of the Wild Card round, how certain are you of his contributions? And even if you are fully confident, don't you want him opposing the equally-stable Morton in a potential must-win or swing game in the series?
Time and again, Deivi Garcia has been the Yankee who's made the best starts under pressure in 2020. He got them back from the brink in Buffalo, beginning the march back above .500 with seven excellent innings. Without his brilliance against the Mets in his MLB debut, how far might their spiral have gone?
And if Garcia doesn't regroup from a three-run inning to beat the Marlins last Saturday, the Yankees are the No. 8 seed.
Boone has been forceful in his insistence that Garcia will be a starter this postseason, despite JA Happ earning the hypothetical "Game 3" nod in the opening round in Cleveland.
So why not deploy him in the way that allows Masahiro Tanaka to get the extra rest he so craves (a full six days between starts if he pitches Wednesday), while going with a potential higher-upside play in Game 2?
Garcia's had his back against the wall plenty in '20, and ideally he'll be coming off a Gerrit Cole start with a rested 'pen behind him anyway.
After what you've seen over the past month, who do you trust more to get you seven innings: Tanaka or Garcia? And remember: We're in San Diego. No Trop to be seen. As far as we can tell, a Garcia start in Game 2 puts Tanaka in his preferred position, and the Yankees would be sacrificing nothing to set it up.