New York Yankees: Aaron Boone says Giancarlo Stanton is ready to play in spring training games
Whenever Major League Baseball resumes spring training there's a good chance that Yankees sluggers Aaron Judge and Giancarlo Stanton will be ready to play in games.
On Monday Yankees skipper Aaron Boone had an interview with Meredith Marakovits of the YES Network and gave an injury update on the status of both Judge and Stanton. The update was very encouraging.
According to Boone if spring training were to pick up where it left off immediately Stanton would be healthy enough to return to action. He's been out for almost a month with a Grade 1 calf strain that he suffered while doing outfield drills on February 26th.
In all likelihood, it would have caused him to begin the season on the IL if the season started on time. With MLB suspending operations because of the coronavirus pandemic Stanton now has plenty of time to get his body healthy and ready to play in games whenever this all ends.
This is a huge season for Stanton after he missed the majority of 2019 due to injuries. The decision to trade for him and his mega-contract hasn't worked out well so far for the Yanks. He was solid in 2018 during his first year in pinstripes but it was a somewhat underwhelming campaign coming off of his MVP year with the Marlins when he hit 59 home runs. Now he can't seem to stay healthy so he hasn't given the fans much reason for optimism that things are going to get better over the course of the next seven years of his deal.
As for Judge, he revealed over the weekend that he's been dealing with a partially collapsed lung in addition to his fractured rib. He says he's recovered fully but he's still rehabbing the rib fracture. It was a bit shocking to hear about the punctured lung but at the same time, it wasn't really surprising at all considering all the injuries the Yanks have dealt with over the past year.
The good news is Judge is progressing well with his rehab for the fractured rib and should be ready to return to the field as well once MLB is cleared to resume play. MLB announced last week that there's a chance the regular season could begin in mid-May at the earliest, but unfortunately, this virus doesn't look like it's going away anytime soon so that sure looks like wishful thinking.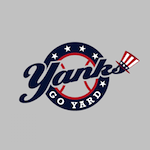 Want your voice heard? Join the Yanks Go Yard team!
Write for us!
There's really no telling when or even if we might see baseball played this season, but assuming we will I'd say the season starting in June or July is much more likely given the circumstances.