New York Yankees: Gary Sanchez is dealing with back soreness
Yankees All-Star catcher Gary Sanchez is dealing with back soreness after catching back to back days and as a result he missed batting practice on Saturday. Another day and another cause for concern in Tampa.
George A. King III of the New York Post, mentioned in an article that Yankees manager Aaron Boone isn't too worried about the situation.
King also stated that Boone thinks it's plausible that Sanchez could play in Clearwater, Fla., on Monday afternoon.
"He [Sanchez] is down," said Boone. "Back to back and his back is a little sore. I am not that concerned about it, normal wear and tear and first back-to-back."
Despite Boone's optimism, the never-ending saga of health scares surrounding the Yankees does not seem to be slowing down anytime soon. If there's any player on the roster who is prone to injury problems, it's Sanchez, who has had IL stints in each of his past three seasons particularly due to groin strains.
The news of Sanchez broke a day after The team announced that Aaron Judge has a stress fracture in his rib and is out indefinitely. It also came after a rough game for Gary behind and at the plate against the Orioles. He committed a passed ball and also went 0-for-2 with a groundout and strikeout.
Sanchez is having a rough spring training. He has just one hit [a single] in 17 at-bats, with two runs batted in, two walks and seven strikeouts. He's batting .059 and his timing has looked way off. His struggles are somewhat concerning but fans shouldn't overreact because it's only spring training.
Dating back to the summer of last year, the 27-year-old has struggled at the plate. Sanchez hit just .102 in July of 2019 and .200 in September, all the while continuously dealing with groin tightness.
When he re rushed himself back from injury just in time for the postseason, he continued to struggle in both the Division Series and Championship Series.
Despite all of the power in his swing and throwing arm, Sanchez has yet to really blossom into the superstar the Yankees envisioned he'd be. He's entering his fifth big league season and he really needs to step it up this year all the way around, especially since the team will be without sluggers Judge and Giancarlo Stanton for an unknown amount of time.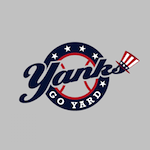 Want your voice heard? Join the Yanks Go Yard team!
Write for us!
The responsibility of catching cannot be ignored but at the same time, that's the price you pay for undertaking the position in the first place and Sanchez is going to have to play through the wear and tear if he and the Yankees want to get to where they want to be in the end.