Aaron Judge's influence on Carlos Rodón shows he's more powerful than Yankees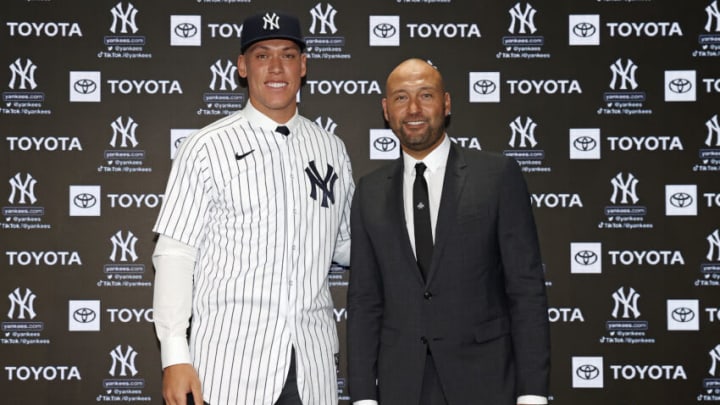 NEW YORK, NY - DECEMBER 21: Aaron Judge #99 of the New York Yankees poses for a photo with Derek Jeter during a press conference at Yankee Stadium on December 21, 2022 in the Bronx, New York. (Photo by New York Yankees/Getty Images) /
At any point this offseason, did you feel general manager Brian Cashman was actually mending bridges and fortifying new relationships to make the New York Yankees a better team? The short answer is "no," especially after we all saw how he handled the Aaron Judge situation.
In fact, at this point, owner Hal Steinbrenner has had a greater impact than Cash. He's seen more camera time. He closed the deal on Judge. He told agent Scott Boras he was ready to spend, which likely resulted in Carlos Rodón joining the Bombers.
Well, that was only part of it. Money always talks. But Rodón also had a childhood dream of pitching for the Yankees one day. And that dream was further put into focus because of Judge's presence.
Rodón was asked about his decision to sign a six-year, $162 million contract with the Yankees, and he said Judge's return to the Bronx "had an impact" on his choice.
Gotta think this played a role with Anthony Rizzo's return, too, who more than likely knew what Judge was doing before the reigning AL MVP officially made his decision. The Judge Effect is real, folks.
Aaron Judge's presence convinced Carlos Rodón to sign with Yankees
It was Judge who talked about the Yankees making more moves at his press conference. It was Judge who had extensive conversations with the front office and Steinbrenner about upgrades as a requirement, should he return. It was Judge who established enough of a presence over the last six years to be named the 16th captain in Yankees history.
Outside of Gerrit Cole, Rodón is the first massive free agent the Yankees have landed since … Masahiro Tanaka? Are we even counting Aroldis Chapman, who nobody even really wanted?
Many Yankees fans have surmised New York no longer has the allure it used to, as a result of the lack of big-ticket free agent signings since 2013. More times than not, the top names on the open market have used the Yankees as a negotiating chip rather than a serious destination over the last decade or so. Cole was offered a contract he couldn't refuse. Rodón was offered a hefty deal as well, but it was below his reported demands, and his expressed desire to be here with the players he admires speaks volumes.
The Yankees are a business. The folks running the show the last 25 years have clearly regressed in their ability to build a winner, recruit top talent, and maintain positive/worthwhile relationships.
The difference this time around has been Judge. And hopefully his nine-year contract sets a new standard in New York — preferably something we haven't seen since 2009.