Yankees: A look ahead at what to expect in the 2020 season
The Yankees are coming off a 103-win season and appear to be heading for another 100 win season. They're also heavy World Series favorites for the first time in a long time.
Last year the Yankees dominated the AL East and easily sailed into the playoffs, however, they failed to reach the World Series for the first time since 2009. Once again they were eliminated in the ALCS by the Houston Astros, this time in six games.
At the beginning of the year Miguel Andujar, the starting third basemen from the year prior, sustained a torn labrum and had season-ending surgery. This left the 3rd base position open and it was quickly taken by the young star Gio Urshela. Urshela finished the year with a .314 batting average and slugged 21 home runs.
Another star that surfaced for the Yankees DJ LeMahieu. Despite having plenty of amazing years with the Rockies, many Yankees fans didn't know of him. However, rather quickly, fans grew fond of their new leadoff hitter. LeMahieu hit for an average of .325 and had a career-high in homers at 26. He stayed in the postseason with a .327 average and 3 home runs.
One player who had a rather disappointing season was Luke Voit. The season started for Voit with a lot of hype surrounding his name but injuries plagued him during the second half. However, he still managed to hit .268 with 21 HR. He'll look to have a more powerful year in 2020.
Another player who disappointed was Aaron Judge. He only managed 27 home runs in 102 games played. He looks to try and remain healthy this next season. The last time Judge had a healthy season was 2017, when he hit 52 home runs in 155 games.
Giancarlo Stanton had an injury-plagued season and only managed to play in 18 games. If Stanton can remain injury-free, the Yankees should expect 150 games played and 30 plus home runs. This would be an outstanding bounce-back year for the veteran slugger.
Catcher Gary Sanchez had a very mundane year last year. He managed to hit for over 30 home runs for the second time in his career, but only played in 106 games and had a .232 average. If he can get his average above .250, stay healthy, and stay on pace with the number of home runs that he had, he will have a great 2020.
Next, Gleyber Torres is probably the returning Yankee with the most hype and potential. He hit a whopping 38 home runs and had a .278 average. At only 23 years old, he has a lot of time to grow. With the departure Didi Gregorius, Torres will slide over to his natural position of shortstop and DJ LeMahieu will play more second base.
Lastly, the signing of Gerrit Cole has been the biggest move by far by any team this offseason. The Yankees signed their new ace for nine years $324 million. Cole is coming off of a year where he had an ERA of 2.50 and a WHIP of 0.89. He was an absolute animal for the Astros.
Current rumors are saying that the Yankees are looking to add an arm to the bullpen. One rumor that surfaced recently was that they were looking to trade for Brewers closer Josh Hader in exchange for a package of players headlined by Miguel Andujar. Hader would provide a dominant presence on the mound in late innings. He would be a very strong candidate to take over as the primary set-up man for Josh Hader.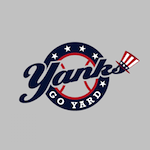 Want your voice heard? Join the Yanks Go Yard team!
Write for us!
With the addition of Cole and the return of their young superstar core, the Yankees are moving into the New Year as a serious favorite to win the AL pennant and go all the way.