Yankees: When will the signing of Brett Gardner become official?
During the Winter Meetings, the Yankees reportedly re-signed OF Brett Gardner to bring him back for the 2020 season. However, almost a full month has now passed and the deal still hasn't become official yet.
What's taking so long for the Yankees to officially announce the re-signing of Gardner?
Well, right now their 40-man roster is full which means they still have to clear up another spot to make room for the veteran outfielder. Before the signing of Gerrit Cole became official on December 18th the Yankees had to clear up two rosters; one for him and one for Gardy. There was thought they would clear up the spots by making a trade but that didn't happen so they decided to designate pitcher Chance Adams for assignment to make room for their newest ace.
How they'll make room for Gardy remains to be seen but it's a bit surprising that a move still hasn't been made yet considering how much time has passed since news broke that he re-signed on December 12th. The two sides had agreed to terms on a one-year deal worth $12.5M with a club option for $10M in 2021.
Part of the reason why the move hasn't become official yet probably has something to do with the fact that the Yankees can afford to take their time. In the case of Cole they had to make a roster move rather quickly so they could hold their introductory press conference for him at Yankee Stadium. As great a Yankee as Gardy is I doubt there will be a big press conference for him and I'm sure he had no problem giving the front office extra time to clear up that last spot for him on the 40-man roster.
So how will Brian Cashman and company create room to officially bring back the longest-tenured Yankee on last year's team? Over the past four weeks, the Yanks have probably been looking at multiple trade opportunities not only to make room for Gardy but to clear cap space or to add more talent to next year's club.
J.A. Happ's name continues to be thrown around and dealing him would be a great way to open up a roster spot and get their payroll under the highest level of the luxury tax threshold. It doesn't look like a Happ trade is nearing anytime soon, but I still think there's a good chance he'll be elsewhere heading into Opening Day.
Miguel Andujar has also been involved in a lot of rumors and the most recent one we've all seen is him being included in a potential package for Brewers' relief ace Josh Hader. I hope that doesn't happen and I don't see it happening but that would be a way to clear up a couple of roster spots because it would likely cost the Yankees more than just one player (Miggy) from their 40-man.
Unless a trade happens I think what's going to end up happening is the Yankees will designate another player for assignment. At first glance, the only two names who could really be in danger of losing their roster spot are relievers Stephen Tarpley and Jonathan Holder.
I'd lean more towards Tarpley because he's really only a lefty specialist and hasn't been very consistent at all during his limited big-league stints over the past two seasons. A year ago I never would have thought Holder could be in danger of getting cut but after he struggled mightily in 2019 his long term future with the club is a lot more unclear.
In 2018, Holder was one of the Yankees most reliable relievers posting a 3.14 ERA in 66 innings with a 1.09 WHIP. Last season he had a 6.31 ERA in just 41.1 IP. He earned a demotion to Triple-A Scranton in late June and only made three appearances with the Yanks for the rest of the season. However, unlike Tarpley, the right-hander has found success in the big leagues before and in 2020 he could be a nice bounce-back candidate under the tutelage of new pitching coach Matt Blake.
With Tarpley, I just don't see much upside in him, especially now that there's a new three-batter minimum rule being employed for relievers in 2020. For that reason, in particular, I think if the Yankees opt to make room for Gardy by designating someone for assignment it would have to be him.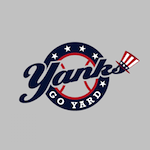 Want your voice heard? Join the Yanks Go Yard team!
Write for us!
Whatever the Yanks end up doing, I'm just happy knowing that Gardner is going to back in pinstripes where he belongs next season. Re-signing him this offseason was inevitable, but it was a great move and an extremely necessary one with Aaron Hicks expected to miss the beginning of the season recovering from Tommy John surgery.