Yankees have to clear up two spots on the 40-man roster to make room for Gerrit Cole and Brett Gardner
This week at the Winter Meetings the Yankees made two big free-agent signings. The biggest was obviously the move to sign ace Gerrit Cole to a record-breaking contract and the second was to bring back OF Brett Gardner. However, these deals won't become official until New York clears up two spots on the 40-man roster.
This offseason has already been an outstanding one for the Yankees but there's still work to be done. Entering the week the Yanks already had a full 40-man roster so two players are going to have to be removed in some shape or form.
There are multiple ways GM Brian Cashman can make this happen and I'm sure he and the rest of the front office are working on that as I write this post. The most likely way to make room for Cole and Gardy would be to make a trade. The other is by designating a player for assignment, although there's no doubt the Yanks would prefer to clear up the spots by making a trade or two.
The only players I could really see in danger of being DFA'd are pitchers Chance Adams and Stephen Tarpley. Both have struggled quite a bit during their limited stints in the big leagues over the past two seasons and neither one projects to be a big part of the Yankees pen next season.
That being said, there was a time not too long ago when Adams was ranked as one of the organization's top prospects and he did survive the roster crunch a couple of weeks ago. That could mean the Yanks still have high hopes for him moving forward. As for Tarpley, I don't know what the Yanks could get in return for him in a trade, especially after major league baseball implemented a new rule for 2020 that essentially eliminates the role of a lefty specialist.
J.A. Happ's days in pinstripes are clearly numbered
On the trade front, J.A. Happ is definitely the player who is most likely to be dealt. Now that Cole is headlining the Yankees starting rotation the 37-year-old has become expendable. He's set to make $17M in 2021 and has a vesting option for the same amount in 2021 and the Yankees probably don't want to pay him either after his poor 2019 campaign. Right now they're projected to start the season with a payroll of $261M which would put them above the highest level of the luxury tax threshold at $248M so if they trade Happ they could find a way to get back under.
Trading Happ and his contract isn't going to be easy but the Yanks should be able to find multiple takers and if they eat a small portion of the money owed to him it would be even easier to find one. Happ did finish the season strong in September and you can always count on him to take the ball every fifth day so he could be a useful piece for a team looking for a veteran, back end of the rotation starter.
The main reason why the Yankees would trade Happ is to offload his contract, but also to open up a spot in the rotation for the returning Jordan Montgomery. Montgomery didn't make his season debut until September of last year after undergoing Tommy John surgery in May of 2018 and is expected to be back in full force in 2020.
If Happ remains with the team Montgomery would likely start the season in the bullpen or at Triple-A Scranton. Now that he's healthy he belongs in the big-league rotation. He was outstanding during his rookie season in 2018 and if given the opportunity he could be the best fifth starter in any rotation in baseball with his upside.
Other candidates to be traded include the aforementioned Adams and Tarpley along with OF Clint Frazier. From an offensive standpoint, we all know Frazier belongs on a big-league roster but after the Yankees re-signed Gardner it's hard to see where he fits into the outfield mix in 2020. Right now Mike Tauchman projects to be the fourth outfielder on the Opening Day roster and at some point next season Aaron Hicks is going to return from Tommy John surgery as well.
Frazier has been involved in a lot of trade rumors since coming to New York, but the Yankees have turned down many offers because they aren't going to trade him unless the deal makes sense and they get equal value in return. Last trade deadline the Yankees almost dealt him for another starter but now their rotation is set and I don't see them trading him for another position player.
There's a chance they'll trade him for a quality reliever but that could just further complicate things if he's the only player from the 40-man roster included in a package. I have a hard time seeing Frazier make it through the entire 2020 season with the Yanks but at this point, I think it's more likely he'll be traded during the season once the front office has a better idea of what the teams' needs are.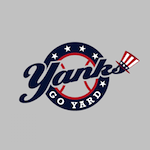 Want your voice heard? Join the Yanks Go Yard team!
Write for us!
Whatever ends up happening this should all be resolved sooner rather than later because sometime next week the Yankees will hold a press conference to officially introduce Cole in the Bronx. My guess is they'll be able to find a trade partner for Happ and either Adams or Tarpley will be the other odd man out.