Yankees sign Gerrit Cole to a nine-year, $324 million contract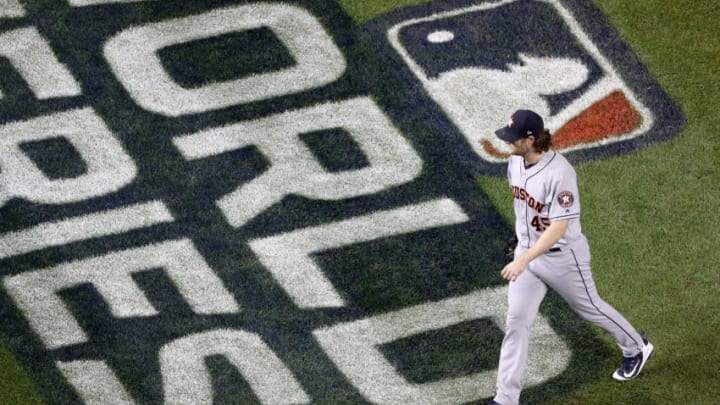 WASHINGTON, DC - OCTOBER 27: Gerrit Cole #45 of the Houston Astros walks off the field after retiring the side against the Washington Nationals during the sixth inning in Game Five of the 2019 World Series at Nationals Park on October 27, 2019 in Washington, DC. (Photo by Will Newton/Getty Images) /
According to multiple sources, the Yankees have agreed to a record-setting nine-year, $324 million contract with free-agent pitcher Gerrit Cole.
Well, the third time is the charm, as the Yankees finally got their man.
Just before 12 AM EST on Tuesday night, the news Yankee fans have been waiting for with bated breath finally arrived — Gerrit Cole will sign with the team he grew up rooting for, the New York Yankees (pending a physical).
Naturally, when Hal Steinbrenner gave general manager Brian Cashman the all-clear, to go out and offer the 29-year-old right-hander a record-setting contract, skepticism was an initial reaction.
I mean, how many times have we, the fans, been built up, just to be knocked down over the past few offseasons — that a mega free agent was coming to the Bronx, only to end up elsewhere.
More from Yankees News
Well, regret no more, as Cashman and company have set the baseball world ablaze, beating out both Los Angeles teams for Cole's services — and severely stunting the Astros' chances of making a return trip to the World Series.
Sure, signing Cole to a nine-year, $324 million contract ($36M AAV — topping Mike Trout's $35.5M AAV) with a full no-trade clause will come with plenty of doubters, that will inevitably focus on the backend of the deal. But how about we concern ourselves with 2020 before we get into 2027 and beyond?
Give us at least one World Series title and I guarantee, come 2029, dead money will be a wash. Win multiple titles and Cashman can keep his job another 20 years.
The first $300 million pitcher in baseball had to be a Yankee. It's only fitting that the most successful organization in the sport sets the high mark. And following Stephen Strasburg's seven-year, $245 million agreement to head back to the Nationals, we knew inking Cole was going to push Steinbrenner and Cashman to their utmost limit.
While signing Cole likely makes the Yankees the current American League favorite, they'll still need the core of the club to stay healthy in 2020 and perform up to their lofty standards.
However, a healthy starting rotation of Gerrit Cole, James Paxton, Luis Severino, Masahiro Tanaka, and any number of fifth starters gives the Yankees a genuine opportunity to win each time they take the field.
A bonafide No. 1 ace is precisely what the Yanks needed to win the offseason. Sure there is other business to attend to, but for the next few hours, let it sink in that Gerrit Cole will get the ball every fifth day for the team with the interlocking NY on their caps.
It's a great day to be a Yankees fan!