New York Yankees: 50 greatest players of all-time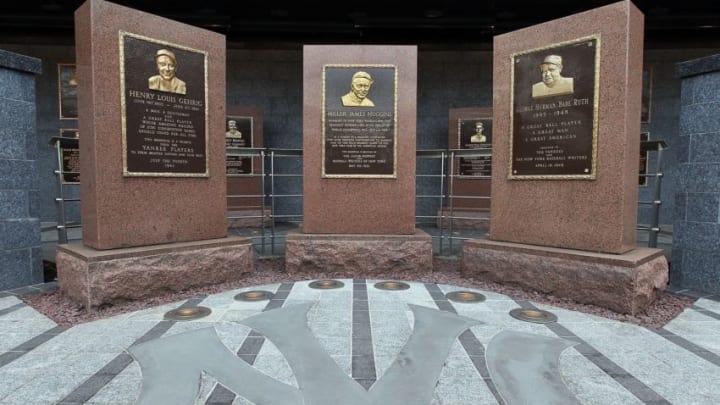 NEW YORK - MAY 02: The monuments of (L-R) Lou Gehrig, Miller Huggins, and Babe Ruth are seen in Monument Park at Yankee Stadium prior to game between the New York Yankees and the Chicago White Sox on May 2, 2010 in the Bronx borough of New York City. The Yankees defeated the White Sox 12-3. (Photo by Jim McIsaac/Getty Images) /
(Photo by Douglas Grundy/Three Lions/Getty Images) /
A three-sport star at Fordham Prep in the Bronx, Snuffy Stirnweiss wound his way to the major leagues after playing football and baseball at the University of North Carolina.
He signed with the Yankees after graduating from North Carolina in the spring of 1940, sticking as a utility infielder with the Yankees in 1943.
Kept out of the military by an ulcer, Stirnweiss became a regular for the war-depleted Yanks in 1944, leading the American League in runs, hits, triples and stolen bases that season while finishing fourth in the MVP voting.
He captured the AL batting title in 1945, as well as again leading the league in runs, triples and steals and adding the league lead in slugging percentage (despite hitting only 10 home runs), OPS and total bases. Stirnweiss as third in the AL MVP race.
When the stars returned from the front lines in 1946, Stirnweiss retained his grip on the second-base job for the Yankees, earning his lone All-Star berth in 1946 even as his numbers dipped severely from their levels during the war.
He lost the starting gig to rookie Jerry Coleman in 1949 and was traded to the St. Louis Browns in a six-player deal in June 1950.
Stirnweiss' last big-league appearance was with the Cleveland Indians in 1952 and he briefly tried to come back with the Philadelphia Phillies organization in 1954 before retiring at age 35.
In parts of eight seasons as a Yankee, Stirnweiss hit .274/.366/.382 in 884 games, with 27 homers, 66 triples, 253 RBI, 562 runs scored, 130 stolen bases and a 108 OPS+.
He was one of 48 people killed on Sept. 15, 1958, when a commuter train in New Jersey plunged off an open drawbridge into Newark Bay. He was 39 at the time.