New York Yankees: 50 greatest players of all-time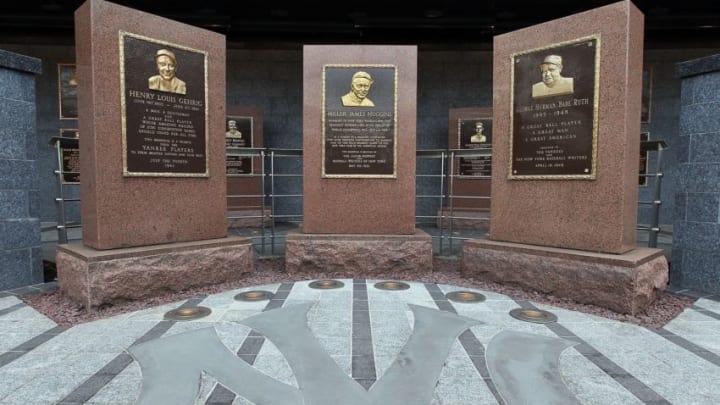 NEW YORK - MAY 02: The monuments of (L-R) Lou Gehrig, Miller Huggins, and Babe Ruth are seen in Monument Park at Yankee Stadium prior to game between the New York Yankees and the Chicago White Sox on May 2, 2010 in the Bronx borough of New York City. The Yankees defeated the White Sox 12-3. (Photo by Jim McIsaac/Getty Images) /
The Yankees signed multi-sport star Bobby Murcer in June 1964, with Murcer turning down a scholarship to play running back at the University of Oklahoma in lieu of pursuing a career in baseball.
It was a good call. Murcer got his first taste of the bigs as a 19-year-old shortstop in 1965 and got a cup of coffee late in the 1966 season.
He would spend most of the next two seasons in the U.S. Army after being drafted. When he returned for the 1969 season, he made the opening day roster as the everyday third baseman before being shifted to right field in May.
The next season, he was moved over to center field and was a fixture there the next four years as his bat began to emerge. He was an All-Star four straight seasons from 1971-74, leading the American League in on-base percentage and OPS in 1971 and in runs and total bases in 1972, a season in which he also scored his lone Gold Glove.
In October 1974, the popular Murcer was shipped to the San Francisco Giants in exchange for fellow All-Star center fielder Bobby Bonds.
Murcer spent two seasons with the Giants before being traded to the Chicago Cubs in February 1977 and in June 1979, the Yankees re-acquired Murcer from the Cubs in exchange for minor-league right-hander Paul Semall.
Now 33, Mercer settled into a role as a part-time outfielder/designated hitter, with his role gradually decreasing until he was released in June 1983 after appearing in only nine games.
In parts of 13 seasons as a Yankee, Murcer hit .278/.349/.802 in 1,256 games, posting an OPS+ of 129 with 175 homers and 687 RBI to go with 641 runs scored.
Murcer died from a malignant brain tumor on July 12, 2008, in Oklahoma City, his hometown, at the age of 62.